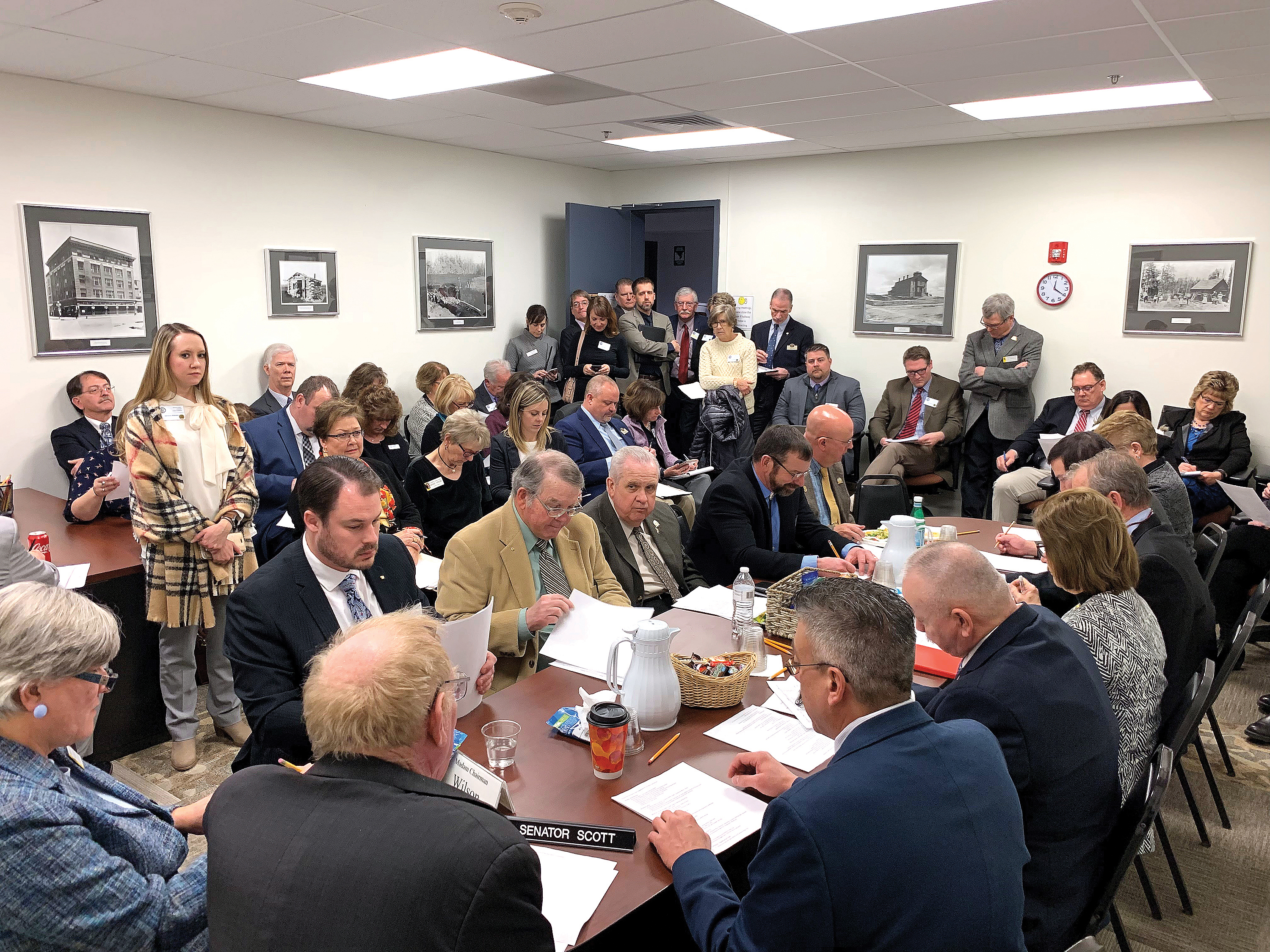 The State of Wyoming is spending big on long term care and other issues around aging and the subject has officially risen to the level of op priority for the Legislature's Joint Labor, Health, and Social Services Committee.

On March 22, the Wyoming Legislature's Management Council offered its final blessing on a list of topics that legislative subcommittees will study ahead of the 2020 Legislative Session. During that meeting The Management Council supported the Joint
Labor, Health Committee's recommendation to make costs and services utilized by the state's aging population its first concern this summer.

The Joint Labor, Health Committee will be headed up this interim by co-chairs State Senator Charles Scott (R-Natrona), and State Representative Sue Wilson (R-Laramie). Scott says the committee will look into regulation and financial viability of long-term care facilities, workforce issues around existing long-term care and changes to Medicaid to support individuals in need of long-term care. The committee may also discuss rebasing long-term care facilities.

According to the Wyoming Department of Health's 2017 Long Term Care Study, the State of Wyoming was estimated to spend $138 million on long-term care through the state's Medicaid program last year. This is money that is spent on Wyoming citizens whose health requires a nursing home level of care, though they cannot afford it.

In an effort to stem the tide of this issue, AARP Wyoming successfully advocated for small increases in the state's budget for home and community-based services last legislative session. The legislature added $225,000 to the state's supplemental budget for the Wyoming Home Services Program, and another $225,000 for the state's senior centers in hopes of helping Wyomingites age in their own homes.
"We have found that with assistance people can stay in their homes much longer rather than going to a nursing home," Scott says. "The question is, do we have enough of that kind of assistance? We want to make sure that we are doing what we can to make sure that is available."

Nursing Home Concerns
The question of who will work in the state's long-term care centers will be just as important as funding of the centers themselves. Nursing home administrators suggest finding qualified candidates willing to work in positions such as nurses and Certified Nursing Assistants (CNA's) is difficult to find and near crisis levels.

"Some of it is economic," says Scott. "There are a lot of people trained as CNA's but we lose them to competing occupations. If we can't compete with Wal-Mart in terms of wages, people will work there instead. It has to be a paying proposition." Scott adds the committee is also interested in reviewing nursing home regulations in Wyoming, saying the state is continually trying to balance the need for minimum standards with too much regulation, which makes nursing homes unaffordable to all."

Retirement Security
AARP Wyoming will also report to the Labor, Health committee on the work of the 2018 Wyoming Retirement Security Task Force, which examined ways to help Wyoming workers more easily save for retirement through workplace deduction. Scott agrees that if people don't retire with enough savings, that financial burdens fall on the state through the Medicaid program. While the committee had asked to receive a report on the work of the Task Force, it was removed from the list of priorities during The Management Council meeting.
"Having people with adequate resources for retirement helps keep them independent for as long as possible and off our welfare system, which is Medicaid. We are disappointed that Management Council cut that out."

Revenue Committee Work
The Labor, Health Committee was not the only one covering topics of interest to AARP Wyoming members. If you enjoy tax talk, following the Joint Revenue Committee during the interim will be pure bliss. The committee has been asked to consider Tobacco Tax, modernization of the state's sales tax system; as well as tax bills that were defeated in the 2019 session, such as the National Retail Fairness Act, Lodging Tax, and Income Tax.

Cheyenne Republican Representative Dan Zwonitzer is a co-chair of that committee and says he hopes the 2019 interim will give the committee and legislature a solid direction on which avenues make the most sense for increasing state revenues.

"We want to know, are our assessment rates comparable, tax burdens comparable, is our cost of government too high and how can we reduce government instead of raising taxes," he told AARP Wyoming. "No one likes taxes, and the Revenue Committee is trying to find ways to raise revenue as painlessly as possible. Part of that discussion will revolve around if we are giving enough assistance to seniors on fixed incomes in a rising rate environment."

Zwonitzer encourages AARP Wyoming members to attend all Revenue Committee meetings, but strongly suggests AARP Wyoming members attend a July 9 meeting in Cheyenne where several committees will meet that week to offer a big-picture view of the legislative process.

"The Committee would be responsive to hearing the views of Wyoming's 50+ community on taxation and tax exemptions as the committee proceeds with looking at all aspects of our revenue picture before the 2020 Budget Session."

Appropriations and Judiciary
The Joint Appropriations Committee will continue their work from the 2018 interim around simplifying the budget process. Senator Eli Bebout (R-Fremont) and Rep. Bob Nicholas (R-Laramie) chair the committee and Bebout says the main issue for the JAC will be the fact Wyoming continues to spend beyond its reserves. By his count, Bebout believes the state is spending around $1 billion more than it took in over the most recent budget cycle.

"We have funded the deficit with a combination of savings, diversions, use of one-time capital gains, and depleting reserve accounts that guarantee our revenues from permanent funds, all without a serious look at any revenue enhancements," he tells AARP Wyoming.
Bebout adds that the state needs to continue to consider the fact big box stores do not pay their fair share in ways other than a corporate income tax.

The Joint Judiciary Committee will study issues of adult guardianships, and to that front a committee of those interested in guardianship have already begun meeting and will bring a bill to completely redefine the guardianship statutes in Wyoming. To check out dates and times of legislative meetings during the interim, go to: www.wyoleg.gov.