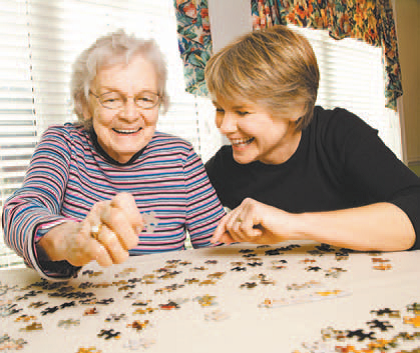 The Wyoming Center on Aging at the University of Wyoming realizes that our open spaces can be one of Wyoming's most endearing properties. However, those same distances between neighbors can make caring for a loved one with dementia difficult.

For that reason, The Wyoming Dementia Together program will kick off on Jan. 20 with a series of one-hour educational and support group events. The Dementia Together meetings will be held online and free of charge.

"There are some places in the state that have dementia caregiver resources and thankfully there is a growing number of resources, but we also have areas of the state where there aren't educational or support resources," says WyCOA's Catherine Carrico. "Our goal is to make sure everyone who is taking care of someone with dementia has the opportunity to be supported, be educated, but to support others as well. With Zoom, you can do that on a computer, or tablet or even call in."

The support and educational sessions will be held bi-weekly online and participating is free. There is a one-time registration required and it may be done by calling WyCOA at 307-766-2829 or by emailing wycoa@uwyo.edu. Once registered, participants will receive information on how to join the sessions each weekly via email. While the sessions will begin at 10:30 a.m. on Jan. 20, they will run through the end of June and you do not need to attend previous events to take part in future events.

The sessions will feature topics such as "Being the Caregiver I Strive To Be," and "Caregiver Self Care: Mentally Taking Care of Myself." Among the knowledge base leading these sessions will be: Dementia Consultant Dan Guerttman, Caregiver Scott Veatch; Psychologist Heidi Maxwell, as well as team leaders Sabine Schenck of Laramie and Social Worker Carol Taylor of Jackson.

Wyoming Dementia Together is a partnership of WyCOA, the Alzheimer's Association, Cheyenne Regional Medical Center, The Wyoming Department of Health, Ivinson Medical Center, Wyoming Dementia Care, and Eastern Shoshoni Tribal Health have come together to offer an online support group called Wyoming Dementia Together.