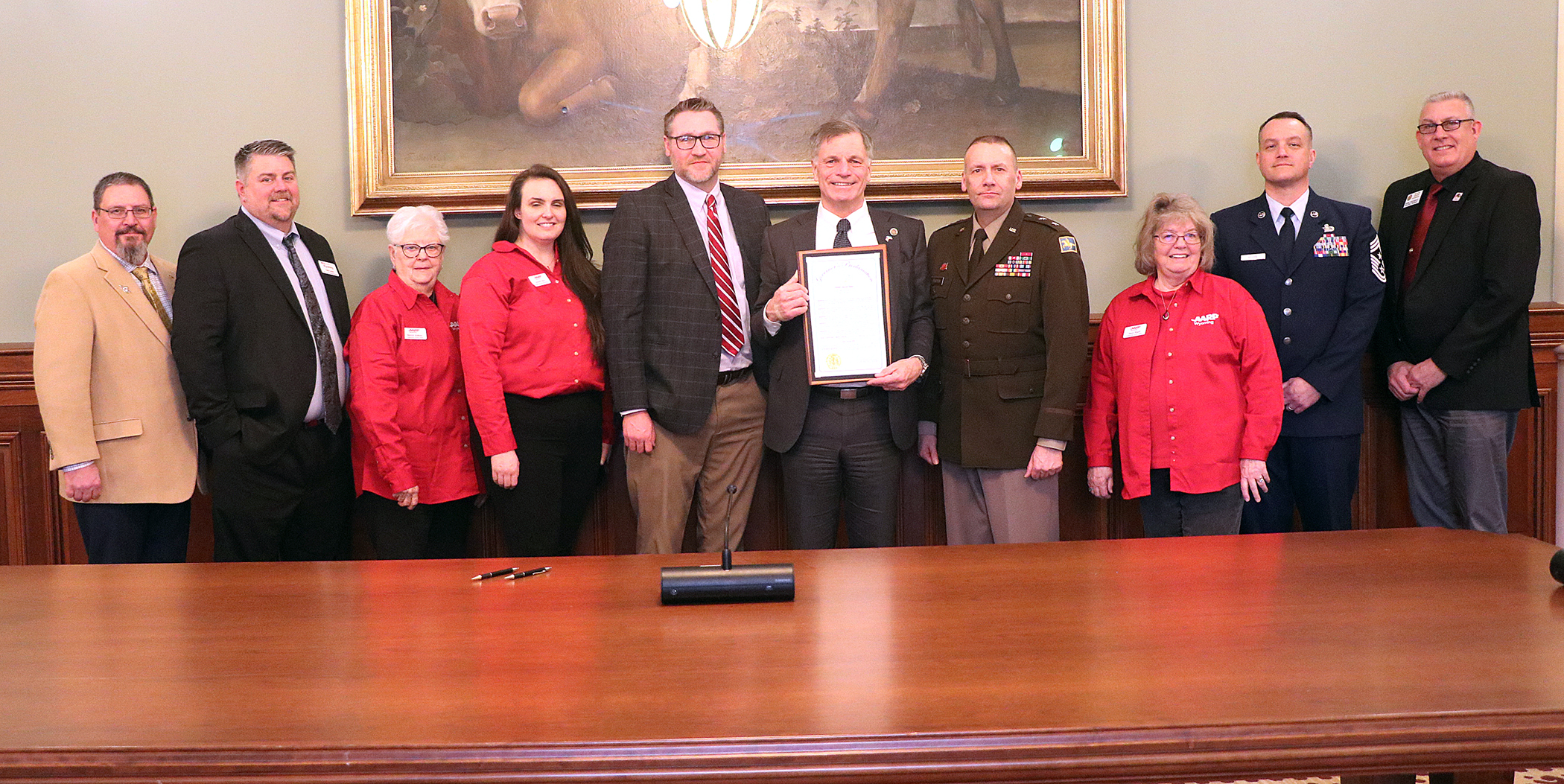 Today in Cheyenne Governor Mark Gordon signed a proclamation declaring Wyoming a Hidden Heroes State, which recognizes the caregivers of veterans across Wyoming, while highlighting some of the available resources for military caregivers.

The Hidden Heroes campaign is a collaboration between AARP and the Elizabeth Dole Foundation to bring attention to the untold stories of military caregivers and seeks solutions for the challenges and long-term needs they face. The Hidden Heroes effort also attempts to inspire individuals, businesses and others to take action on supporting military caregivers in their communities and establish a national registry, encouraging military caregivers to register at hiddenheroes.org to better connect with helpful resources and support.

AARP has more than 3 million veterans in its membership and has made issues facing veterans, military members, and their families a priority. To that end, the organization has produced a free military caregiving handbook available by clicking here. The guide offers helpful resources and caregiving checklists, facts about veteran and military caregivers, and five key issues to address in your caregiving journey.

AARP also offers the free Watchdog Alert Veterans Addition guide, which is available by clicking here. The guide outlines the fact 1-in-3 current or former military members have been targeted by disability or benefit scams and how veterans and military families can avoid being scammed.

The effort to get a signed proclamation was led by Wyoming State Senator, Air Force Veteran and co-chair of the AARP Wyoming Veterans Advisory Committee, Brian Boner. For more resources for veterans, check out: https://www.aarp.org/home-family/voices/veterans/.

The full proclamation reads:

WHEREAS, the series of wars in which our nation has been engaged since World War II has resulted in 5.5 million military and veteran caregivers, who are parents, spouses, siblings, and friends, caring for the wounded, ill, or injured heroes who have served our nation; and,

WHEREAS, these caregivers assist our wounded warriors in daily tasks that not only include care for their injuries, administer medications, provide emotional support, but also regular household duties, caring for family and often times they earn essential income by working outside the home; and,

WHEREAS, across the nation, there are public, private, and philanthropic dedicated to supporting our wounded, ill, and injured veterans and service members; and,

WHEREAS, most military and veteran caregivers consider the difficult work they do to be simply carrying out their civic and patriot duty or showing their unwavering love and devotion, without realizing that they are, in fact, caregivers, and do not identify themselves as such; and,

WHEREAS, as a result of their caregiving duties, many military and veteran caregivers suffer from numerous debilitating mental, physical, and emotional effects, according to research conducted by the Elizabeth Dole Foundation; and,

NOW, THEREFORE, I, Mark Gordon, governor of Wyoming, do hereby proclaim Wyoming to be named a

Hidden Heroes State, To recognize and support those who are serving in a vital role in our own communities.