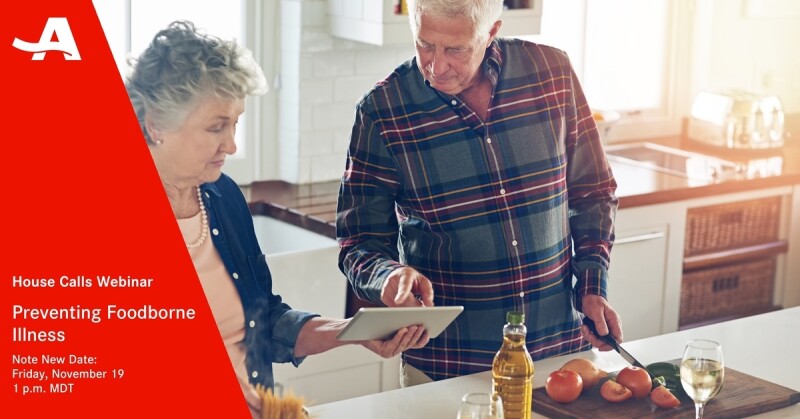 A previously scheduled free webinar on food safety will now take place on November 19 at 1 p.m. Mountain Time and 10 a.m. in Hawaii.

The webinar is part of the House Calls series on infection control and brought to you by AARP state offices in Hawaii, and Wyoming, along with Mountain Pacific Quality Health, and the Wyoming Department of Health.

On November 19 at 1 p.m. Mountain Time (9 a.m. Hawaii Time), Matthew Peterson of The Wyoming Department of Health will offer a free Zoom presentation on the basics of proper food preparation, cooking and food storage.

The event is free, but we do ask that you register for the event. You may do so by clicking this link.

Peterson is an epidemiologist in the Infectious Disease Unit of the Wyoming Department of Health where his work focus is foodborne and enteric illness. He monitors foodborne illness in Wyoming and coordinates outbreak responses with federal, state, and local partners to intervene and prevent their spread. He began work with Wyoming Department of Health in 2018, honing his skills as an epidemiologist while specializing in communicable disease, then moved to his current position in January of 2021.

"Optimizing food preparation, cooking, and storage practices can prevent your kitchen from being the source of an outbreak, and save yourself and guests from a potentially serious illness," says Peterson.

How To Take Part in the Webinar

To take part in this free webinar, simply click on this link or dial 253-215-8782 and use the code: 857 7781 2450. The webinar is also available during and after the start of the presentation, on-demand at AARP Wyoming's Facebook page at: facebook.com/aarpwy.

About Project Firstline

Mountain-Pacific, AARP, and the Departments of Health in Hawaii and Wyoming have been recording webinars through the Housecalls Series for the past six months. All of the videos are available to be watched for free on AARP Wyoming's Facebook page at: facebook.com/aarpwy.

The COVID-19 pandemic has revealed gaps in infection prevention and control knowledge and practice in healthcare settings nationwide. The Project Firstline program includes room for townhall discussions, and tele-mentoring to ensure all workers in healthcare are empowered with knowledge and reasoning behind today's infection control practices.

CDC has teamed up with a coalition of more than a dozen healthcare, public health, and academic partners, as well as 64 state, territorial, and local health departments through the Epidemiology and Laboratory Capacity cooperative agreement to support development and dissemination of Project Firstline's innovative, The series objectives include slowing and stopping the spread of infectious disease, by helping family caregivers understand how to keep their loved ones protected in order to reduce healthcare costs and hospital readmissions.

"We all need to know infection control basics and understand how to prevent infection during day-to-day activities and individual interactions. Infection prevention (IP) processes, procedures and tools can be used to empower all individuals within our communities to take necessary IP precautions," says Crystal Morse of Mountain-Pacific Quality Health.

Learn more by exploring CDC's Project Firstline factsheet, Facebook page, Twitter – or read the full Project Firstline press release. For more information, including how to participate in Project Firstline, contact Crystal Morse at cmorse@mpqhf.org.