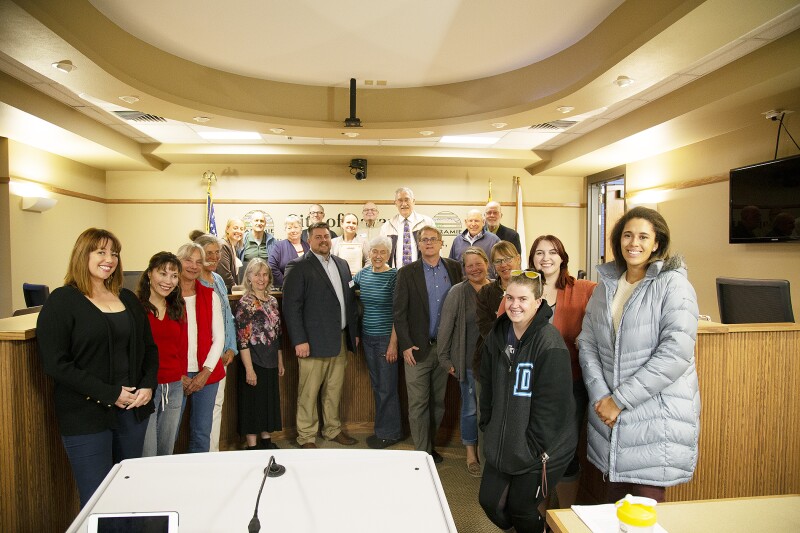 On October 2, AARP Wyoming formally congratulated the City of Laramie on becoming the 293rd community in the nation, and third in the State of Wyoming, to enroll in AARP's network of Age Friendly Communities.

Representatives from AARP Wyoming State Office as well as AARP volunteers from the Laramie Valley presented a certificate and letter of welcome from AARP's national offices to the Laramie City Council on Oct. 2.

"Receiving the Age Friendly designation is a significant first step for the community as it moves towards becoming more livable for people of all ages," says AARP Wyoming State Director Sam Shumway. "Having grown up in Laramie, I am very excited to see how the project moves forward."

Leadership For Age Friendly Communities in Laramie
Bernard Steinman, PhD., a University of Wyoming faculty member and Research Director at Wyoming Center on Aging (WyCOA), is leading the local Age-Friendly team, along with help from representatives from the Eppson Center for Seniors, WyCOA, and Foster Grandparents of the Wyoming Rockies.

"It is important that Laramie move toward age-friendly status in order to begin to address environmental and social factors that can impede the choices older residents have and negatively impact their life satisfaction," Steinmann says. "From being able to participate in community activities, to work if they wish, and to live independently-- an Age-Friendly Laramie will likely positively impact the lives of all residents but especially those of our older residents."

Steinman says the leadership of Age Friendly Laramie met with the public for three visioning sessions this summer and heard concerns about chronic transportation woes as a priority. Other concerns of those in the community were a lack of housing options and one other item that surprised Steinmann.

"A surprising result for me was peoples' strong interest in finding better ways to communicate and disseminate information to our city's older residents," says Steinmann. "Many older residents do not even have email accounts, and they are at risk of being left behind if alternative media for communicating are not found."

Other Age Friendly Communities in Wyoming
Laramie is one of three Age-Friendly Communities in Wyoming with the other two being Casper and Jackson. In each case, the community has come together to find gaps in service and has worked to fill those gaps through grassroots efforts. In Casper, the Age-Friendly Committee has studied and contributed to public transportation improvements. Meanwhile, in Jackson, the Age-Friendly Committee has mapped out handicapped parking spaces for local businesses to share on their websites and developed the buckets-and-poles effort in which surplus ski poles are used to help citizens cross icy roads in the winter.

The AARP Age Friendly Communities Program exists to help cities prepare for rapid population aging and the parallel trend of urbanization. AARP's participation in the program advances efforts to help people live easily and comfortably in their homes and communities as they age.

AARP encourages older adults to take a more active role in their communities and have their voices heard. Initiatives focus on areas such as housing, caregiving, community engagement, volunteering, social inclusion and combating isolation among older citizens.

Members of the AARP Network of Age-Friendly Communities become part of a global network of communities that are committed to giving their older residents the opportunity to live rewarding, productive and safe lives. The benefits of membership include:

Access to a global network of participating communities, as well as aging and civil society experts;

Access to key information about the program, such as the latest news and information about best practices, events, results, challenges and new initiatives;

Opportunities for partnerships with other cities, both domestic and international;

Mentoring and peer-review evaluation by member cities;

Public recognition of the community's commitment to become more age-friendly;

Speaking engagements at conferences and events hosted by AARP and promotion through AARP's media channels.
There is no fee to join the AARP Network of Age-Friendly Communities.