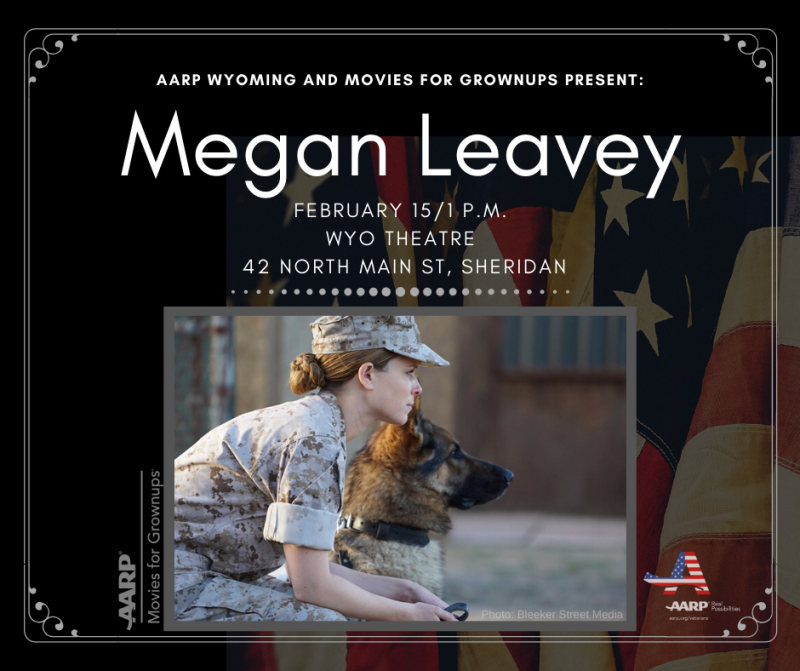 AARP's Sheridan Action Team will celebrate Veterans Day with a free viewing of the movie "Megan Leavey." at 1 pm. on Feb. 15 at WYO Theatre in Sheridan.

Tickets are free but registration is required for entry. To get tickets, click on this link: https://aarp.cvent.com/events/aarp-wy-mfg-megan-leavey-sheridan-wy-2-15-20/event-summary-216f13b26f14487b9d4cf8300e978db6.aspx or call 1-877-926-8300, and ask the operator for Movies for Grownups, Sheridan, Wyoming, showing of "Megan Leavey."

The movie is a part of AARP's Movies For Grownups program, which seeks to fight social isolation in those aged 50 and over. Social isolation occurs when people withdraw and become disconnected from family, friends and community. A study by professors Julianne Holt-Lunstad and Timothy Smith of Brigham Young University found that prolonged social isolation is as harmful to health as smoking 15 cigarettes a day, and is more harmful than obesity. Social isolation has been linked to higher blood pressure, greater susceptibility to the flu and other infectious diseases, and earlier onset of dementia.

According to the website Rotten Tomatoes "Megan Leavey," is based on the true life story of a young marine corporal (Kate Mara) whose unique discipline and bond with her military combat dog saved many lives during their deployment in Iraq. When she is assigned to clean up the K9 unit after a disciplinary hearing, Leavey identifies with a particularly aggressive dog, Rex, and is given the chance to train him. Over the course of their service, Megan and Rex completed more than 100 missions until an IED explosion injures them, putting their fate in jeopardy.

For more information, contact Wayne Schatz in Sheridan at: wschatz1@bresnan.net or 307-672-0224.