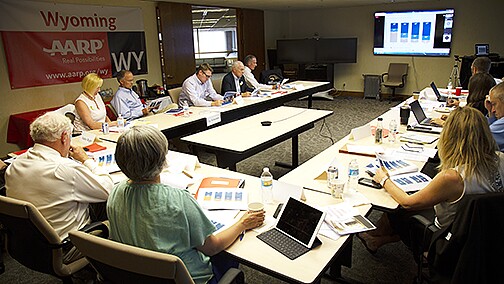 The Wyoming Retirement Security Task Force will meet on Oct. 19 in Laramie. This will be the fourth meeting of the Task Force and should see the group begin to develop recommendations to offer to the Wyoming Legislature's Joint Subcommittee on Labor, Health, and Social Services.

The 11-person committee, created by the legislature in the 2018 session, is charged with examining and making recommendations concerning the preparedness of Wyoming residents to retire in a financially secure manner. Just as important, the task force will also attempt to determine the fiscal impact to the state's social safety net programs that a lack of retirement savings can have.

First Meeting
The Task Force has met three times previous with the first meeting coming in June. The theme of June's task force meeting was to determine what Wyoming citizens are saving and why they aren't saving more for retirement. That meant a day of statistics painting a fairly grim picture of the retirement landscape, including the impacts of a lack of retirement savings on the state budget through programs such as Medicaid, which pays for Long Term Care for seniors who haven't saved enough for their retirement.

Anne Alexander, PhD. from the University of Wyoming offers the Task Force research pointing out Wyoming currently has around 87,000 persons of retirement age, a number that is projected to jump to 151,000 by 2028. Her research also points out Generation Y is already experiencing a lack of retirement savings simply because they cannot afford to save for retirement and many don't have access to a workplace retirement plan. This could lead to larger impacts on state services due to a large percentage of that population not saving for retirement. Alexander confirms that if Wyoming residents could save even $1,000 more per year towards their retirement it would have large impacts on state and federal budgeting.

Second Meeting
The second meeting of the Retirement Security Task Force discussed what is being done in the 40 other states looking into the issue of retirement security and its impacts on state budgets. During its second meeting, the group has heard from a number of experts in the field of retirement savings, including:

Angela Antonelli, of the Center for Retirement Initiatives at Georgetown University;

Utah State Senator Todd Weiler

Geoff Sanzenbacher of the Boston College Center for Retirement Research;

John Scott of the Pew Charitable Trust;

Anne Alexander, PhD. of the University of Wyoming.
The common theme of the meeting was ways states were working with their small businesses to offer ideas and programs which encourage automatic deductions from paychecks at the discretion of the workers and employers.

Data Being Shared
Data was also shared during the second meeting of the Task Force. The Wyoming Department of Workforce Services has sent out 1,200 surveys to small business who said they do not offer workplace retirement programs and received 545 responses with data still coming in. Among the findings was the fact 198 of responses are somewhat or very concerned that their employees will not have enough money to cover their health care or living expenses when they retire.

Another 67 weren't concerned at all. The survey also shows that 337 of the 545 respondents suggest some more or a lot more needs to be done to encourage Wyoming residents to save for retirement. A large majority of business owners are concerned about the cost to operate a retirement plan and most didn't believe they would ever be able to offer retirement to their employees.

The research also shows a lack of information and understanding among business owners in terms of having the information they need to set up retirement, as well as the options available.

Polling data done by AARP among employees in the Cowboy State asked specifically how they felt about their own retirement savings. Among the findings were 85 percent of Wyoming registered voters wish they had more saved for retirement and 81 percent agree that lawmakers should support a Wyoming retirement savings program.

Third Meeting
The third meeting of the Wyoming Retirement Security Task Force took place in Casper on Sept. 18 and accepted public comment from small businesses in hopes of understanding what can be done to help small business offer retirement to their employees.

The Retirement Security Task Force is made up of:

Wyoming State Senator Jim Anderson;

Wyoming State Representative Mark Kinner;

Wyoming State Representative Dan Furphy (alternate);

Lisa Jerde Spillman, of the State Treasurer's Office;

Department of Workforce Service, Director John Cox;

Sam Shumway, State Director AARP;

Jay Schneiders, Red Horse Oil Company of Rock Springs;

Ashley Bright, Casper Boys & Girls Clubs of Central Wyoming;

Frank Boley, Vice President; D.A. Davidson & Company;

Polly Scott, Communication and 457 Plan Manager for the Wyoming Retirement System.