Communities across the nation are taking steps to become better places to live and age, according to data analyzed from the newly updated AARP Livability Index.
Along with overall livability trends, AARP identifies the top ten large, mid-size, and small cities. The index uses more than 50 national data sources to score every neighborhood and community in the U.S. based on seven categories of livability: affordable housing, public transportation, neighborhood, social engagement, health, environment, engagement, and opportunity.
"The majority of older adults want to stay in their current homes and communities as they age," said Rodney Harrell, director of livability thought leadership at the AARP Public Policy Institute. "The livability index is a valuable tool to help community leaders and individuals improve their communities and better meet the needs of people of all ages as the number of older adults in America continues to grow."

National trends

Nationally, San Francisco scored the highest livability score of large cities (over 500,000), with a 64, while Madison,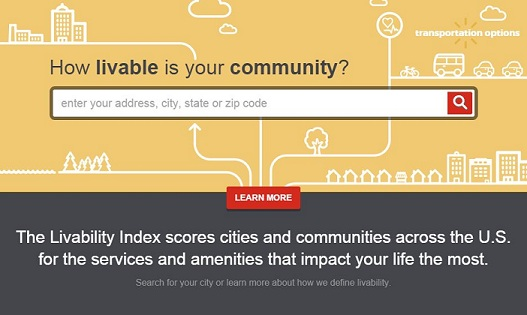 Wisc.(66), and Arlington Vir. (65) scored high in the category of mid-size cities (100,000-499,999). Wisconsin lays claim to the top three small cities in the category of small cities (25,000-99,999), with Fitchburg, Sheboygan, and LaCrosse all scoring no lower than 64 on the index.
This is the first, full update of the index since its launch in 2015. Based on the seven categories of livability measured in the index—housing, neighborhood, transportation, environment, health, engagement and opportunity—19 of the 30 top-scoring cities in 2015 made their respective top ten list again in 2018. Half of the top-scoring cities are also members of the AARP Network of Age Friendly States and Communities

Closer to home

As a state, Wyoming scored a 53 on the liveability index, managing higher scores in the categories of engagement (63), environment (61), and opportunity (58). The state scored lower in the categories of health (46), and neighborhood access to life, work, and play, where it scored a 40. That score places Wyoming in line with neighboring states, including Colorado, South Dakota, and Nebraska, which scored a 55. Utah scored a 54, while Idaho tallied a 52 and Montana a 51.
Communities within the state were also scored with Jackson ranking high in Wyoming due to its high schools in civic engagement and social involvement (92), health prevention, access, and quality (88) and opportunity (75).
A sample of other Wyoming community scores include:

To find out your community's score or for a full list of the top ten large, mid-size and small cities in America, visit www.aarp.org/LivabilityIndex