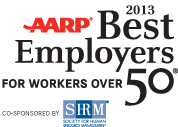 Yale-New Haven Hospital (YNHH) in New Haven, CT is being honored by AARP and the Society for Human Resource Management (SHRM) as one of the 2013 Best Employers for Workers Over 50. YNHH joins a diverse group of health systems, corporations, government agencies, and non-profits on the list, announced today by AARP and SHRM.

"AARP improves opportunities for older workers by spotlighting employers that have implemented programs that help retain, retrain, engage and recruit mature workers," said AARP Connecticut State Director, Nora Duncan. "Yale-New Haven Hospital knows that recruiting and retaining 50-plus workers is smart business."

"We are honored to be recognized as a best employer in this important category," said Richard D'Aquila, president and chief operating officer, YNHH. "A substantial portion of our workforce – nearly 30 percent - is age 50 or above. The experience, knowledge and stability they bring to our organization is invaluable and integral to the success of our hospital."

Thirty percent of YNHH employees are age 50+ with an average tenure of 18 years. YNHH offers a number of programs and benefits that support mature workers, including tuition reimbursement and training opportunities, flexible work schedules and alternative work arrangements, free health screenings and wellness programs, financial and retirement planning and dependent care benefits.

One program of particular interest to mature employees at YNHH is the 'School at Work Program'. This seven month refresher educational program is for individuals who have been out of a traditional learning setting for a significant time period and prepares the employee for additional formal education or a career change. Retiree Medical Accounts are offered for employees retiring at age 55+ with at least ten years of service. The medical account is funded annually, starting at age 40, and the retiree can use the funds after retirement for medical expenses and insurance premiums.

Yale-New Haven Hospital was previously honored as a Best Employer for Workers Over 50 in 2005 and 2006. Past winners from Connecticut also include CTTRANSIT, Pitney Bowes and Hartford Financial. National Institutes of Health (NIH), one of the world's premiere medical research institutions, gained top honors in the 2013 search. Scripps Health of Southern California, which headed the list in 2011, is runner-up this year.

Announcement of the top 50 came jointly by AARP and SHRM, which is co-sponsoring the Best Employers program for the first time. SHRM is the world's largest association devoted to human resource management.

"Every organization needs to view its older workers as highly valuable assets and develop strategies to keep this enormous wealth of talent," said SHRM President and CEO Henry G. (Hank) Jackson. "It's absolutely critical for organizations to embrace new ways to retain older workers, especially in the face of the coming wave of Boomer retirements."

Key areas of consideration include: recruiting practices; opportunities for training, education and career development; workplace accommodations; alternative work options, such as flexible scheduling, job sharing and phased retirement; employee health and retirement benefits, and retiree work opportunities.

###

Yale-New Haven Hospital is a nationally recognized, 1,541-bed, not-for-profit hospital serving as the primary teaching hospital for the Yale School of Medicine. Yale-New Haven was founded as the fourth voluntary hospital in the U.S. in 1826. Today, the hospital's two New Haven-based inpatient campuses include Yale-New Haven Children's Hospital, Yale-New Haven Psychiatric Hospital and Smilow Cancer Hospital. YNHH has a combined medical staff of about 4,500 university and community physicians practicing in more than 100 specialties. YNHH's York Street campus and associated ambulatory sites are Magnet-designated by the American Nurses Credentialing Center. www.ynhh.org

AARP is a nonprofit, nonpartisan organization, with a membership of more than 37 million, that helps people turn their goals and dreams into real possibilities, strengthens communities and fights for the issues that matter most to families such as healthcare, employment security and retirement planning. We advocate for consumers in the marketplace by selecting products and services of high quality and value to carry the AARP name as well as help our members obtain discounts on a wide range of products, travel, and services. A trusted source for lifestyle tips, news and educational information, AARP produces AARP The Magazine, the world's largest circulation magazine; AARP Bulletin; www. aarp.org; AARP TV & Radio; AARP Books; and AARP VIVA, a bilingual news source. AARP does not endorse candidates for public office or make contributions to political campaigns or candidates. The AARP Foundation is an affiliated charity that provides security, protection, and empowerment to older persons in need with support from thousands of volunteers, donors, and sponsors. AARP has staffed offices in all 50 states, the District of Columbia, Puerto Rico, and the U.S. Virgin Islands. Learn more at www.aarp.org.