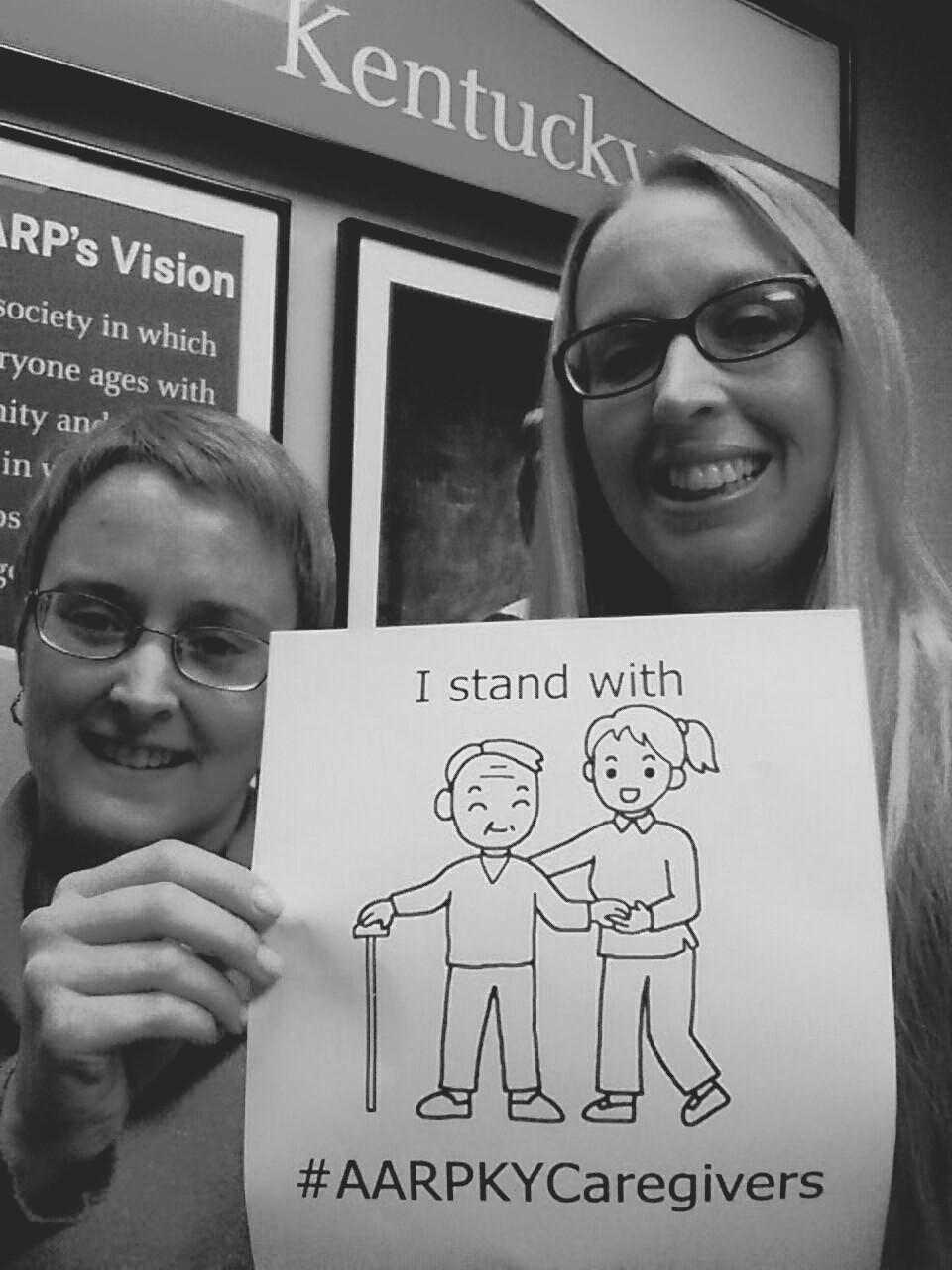 Are you a family caregiver?

Have you ever been a family caregiver?

Think you might be a family caregiver soon?

Are you currently receiving care from a loved one, or do you think you might need to in the future?

We're asking you to help AARP Kentucky stand with KY Family Caregivers!

Participate in 2016 Family Caregivers Day at the Capitol, whether in person, or from your own home or workplace – Wednesday, February 24, 2016.

You're invited to join AARP Kentucky volunteers for the 2016 Family Caregivers Day at the Capitol. This is your opportunity to support Kentucky's 650,000 unpaid family caregivers caring for loved ones. It's also your opportunity to meet your state legislators and talk one-on-one about the needs of family caregiving and retirement security in the 2016 General Assembly. Your presence in the State Capitol will help family caregivers and help to make their voice heard in Frankfort.

To register to attend 2016 Family Caregivers Day at the Capitol, click here!

"This is an opportunity for our members to share their thoughts and concerns with the people who represent them in Frankfort," said Jim Kimbrough, volunteer state president. "It demonstrates to lawmakers that we're watching, we're involved with the process, and that the decisions they make have a real impact on real people."

AARP Kentucky is planning a series of training sessions in advance to prepare volunteers on legislative issues, scheduling legislative meetings and talking with legislators and how to get around in the Capitol.

Can't be there in person for 2016 Family Caregivers Day at the Capitol? No worries, you can still support the Kentucky family caregivers who go beyond and above to help their loved ones stay in their own homes, and save the state approximately $7 billion per year.

We have an easy solution!

Just get your cameras ready – its selfie time! Simply print out the #AARPKYCAREGIVERS document: #AARPKYCAREGIVERS. Take a selfie with it, have the person you care for take a picture with it, or, heck, have your fur baby take an adorable shot with it! No holds barred, the more creative, the better. Then, on the big day – February 24 th, post it in the comments on this FB post, or tweet it out with the hashtag #AARPKYCAREGIVERS and @aarpky! Don't have a printer? AARP still welcomes you to be creative -- just show your support on February 24th! And don't forget: #AARPKYCaregivers

Let's show our family caregivers, just how much their loved ones and the state of Kentucky cares about them!

On behalf of the AARP Kentucky team -- thanks for all that you do and will continue to do, to help folks age in their own home and communities, where they want to be!