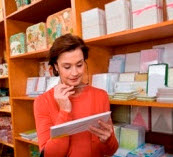 Do you have an idea for a business? Perhaps it's for a gadget or a concept or a strategy—something you'd love to see converted into a successful business. Or perhaps you're tired of working for someone else, or you're unemployed and frustrated with the slow job market.

Whatever your situation, please join us on Tuesday, April 15 in Lowell for a free hands-on workshop for those age 45+, about turning creative ideas into successful business ventures. AARP Massachusetts and the Massachusetts District Office of the U.S. SBA (Small Business Administration) are bringing you this program to help you put your business plans into action.






You'll hear from experts about their experiences and advice, while learning about  programs and resources available from AARP and the SBA. You'll learn about writing a business plan, finding start-up capital to finance your business, and more detail specific to becoming your own boss.

Since its founding in 1953, the U.S. Small Business Administration has delivered millions of loans, loan guarantees, contracts, counseling sessions, and other forms of assistance to small businesses. The SBA's Massachusetts District Office is the local arm of the U.S. SBA.

Whatever your entrepreneurial idea, we hope you'll join us for this exciting event!



RSVP by calling Call 1-877-926-8300—or register here
THE EVENT
8-8:30 a.m.—Registration (NOTE: Registration-only begins at 8 a.m.; the event itself does not begin until 8:30 a.m.)

8:30-10:30 a.m.—Event

Refreshments will be provided!



THE DETAILS
WHAT: A free event with AARP Massachusetts and the Small Business Administration (SBA)

WHEN: Tuesday, April 15, 2014, 8:30-10:30 a.m. (Registration, not the event, opens at 8 a.m.)

WHERE: Eastern Bank, 50 Central Street, Second floor, Lowell, MA 01852

COST: FREE!

RSVP: Call 1-877-926-8300—or register here. Space is limited!

PARKING: There are two garages close to Eastern Bank — John Street Garage (Joseph M. Downes Garage), 75 John Street, Lowell, MA, 01852; and Market Street Garage (Leo O. Roy Garage), 100 Market Street, Lowell, MA 01852 ( NOTE: Parking costs are not covered.)




Cosponsorship Authorization #12-7630-141 SBA's participation in this cosponsored activity is not an endorsement of the views, opinions, products or services of any cosponsor or other person or entity. All SBA programs and services are extended to the public on a nondiscriminatory basis.