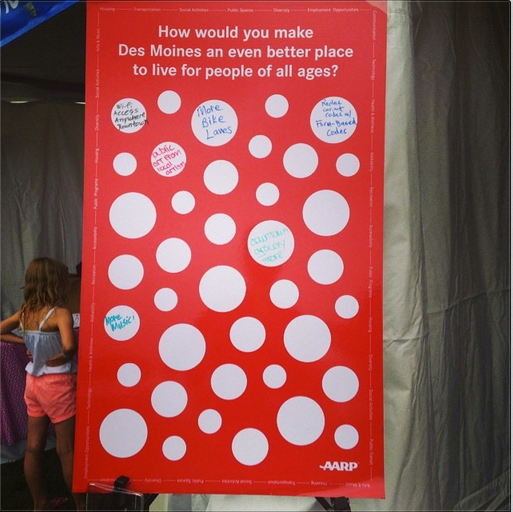 Downpours, flooding, and the constant threat of a storm wasn't enough to keep art lovers away from this year's Des Moines Arts Festival. I attended the fest early this year, donning my AARP shirt on Friday morning to man the booth at opening. Alongside an AARP volunteer named Jan, I helped distributed Fraud Watch information and lead a Milagros craft activity that allowed children to carve designs into colorful squares of aluminum tooling.
This event was also the debut of AARP's "Listening Post", a poster we displayed in front of our booth that asked the question: "How would you make Des Moines an even better place to live for people of all ages?" As a graduate student focused on ways in which the built environment impacts health, I have plenty of ideas for age-friendly city improvements. However, the citizens of Des Moines know what their community needs most (ideas left by passersby included protected bike lanes, smart code for zoning, public art from local artists, and more free music events).
I was fortunate to volunteer with a long-time resident who has a ton of pride for her city. When I asked Jan about Des Moines she initially responded with general positive things I have heard people commonly say about the community. We continued to chat and soon she told me about a home care service that provided great help for an elderly neighbor. Jan decided such services that provide help for people who want to age in place are an asset to Greater Des Moines. Find a list of homemaker services in Polk County here.
What do you think makes Greater Des Moines great and what could make it better? We want your opinions! Tell the Greater Des Moines Age-Friendly City Initiative how you would make Greater Des Moines an even better place to live for people of all ages by using #MyGreatPlaceIA on your preferred social media platform. Connect with us on Facebook, twitter and Instagram @AgeFriendlyDSM to find out where the Listening Posts will be next.