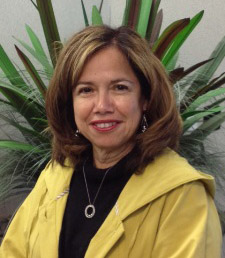 AARP is pleased to announce the appointment of Maria Dent as AARP Nevada State Director. Dent, who has served as the state's community outreach director since 2003, brings extensive experience in aging issues, community services, volunteer programs and multicultural engagement to her new position.

During her tenure with AARP Nevada, Ms. Dent has developed and implemented programs focused on family caregiving, financial security and retirement issues, access to health care and building age-friendly communities, and spearheaded volunteer-centered community engagements statewide. She has convened and strengthened strategic community, municipal and legislative partnerships focused on both education and advocacy for the issues most important to older Nevadans.

"With a strong network of volunteers and community partners, AARP Nevada focuses on issues that impact all of us – like family caregiving, ensuring a strong financial future and protecting against fraud," said Dent. "I'm excited to grow these efforts, and help Nevadans throughout the state connect through resources, programs and the common causes that will ensure a future full of possibilities, regardless of age."

A resident of Nevada for more than 20 years, Ms. Dent is a native of Belize. Her career includes work as program manager with Catholic Charities of Southern Nevada, work with at-risk children at the I Have a Dream Foundation, and senior and volunteer coordinator for Sierra Health Services/United Health Care. She had previously worked with South County Senior Services in Orange County, California.

Ms. Dent has been honored by community and volunteer groups for her work serving older adults, including KLAS Portraits of Success, Volunteer Manager of the Year by Directors of Volunteers in Agencies, and the North Las Vegas Elks Citizen of the Year Award. She has also served on several boards and commissions, including the Nevada Commission on Aging, VA Southern Nevada Healthcare System Volunteer Association, and the United Way of Southern Nevada Emergency Food and Shelter Board.

She is a graduate of the Las Vegas Latin Chamber of Commerce Leadership Nevada and the American Society on Aging New Ventures in Leadership program. She holds a Bachelor of Arts in Psychology/Gerontology from California State University, Fullerton.