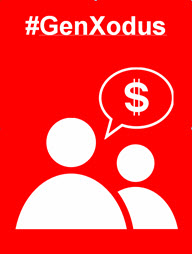 Gen X turned 50 this year. This is a watershed moment for our state, our nation - and for us at AARP – including this Baby Boomer. As the leading advocacy organization for 50 + Americans, we believe that 50 is young, but not too young to start planning seriously for retirement.

Here at AARP New York we see helping Gen Xers begin preparing for the second half of their adult lives as an important new mission for the organization. So we decided to take a deep dive into Generation X and its attitudes toward financial security, debt and affordability. We High Anxiety NYC GenX & Boomers Report and discovered nearly quarters (23%) of NYC GenXers aren't confident they'll ever be able to retire, and 34% have no savings account at all. It shouldn't surprise us, given their "high anxiety" and the reality of their difficulties, that two thirds of Gen X voters are considering fleeing the Big Apple in retirement. And that may the most troubling finding of all.

Some of this lack of preparedness makes sense because Generation X is the first to face a new retirement playbook, with traditional pensions mostly a thing of the past and their retirements contingent upon their own savings efforts. Troublingly, our survey found 78% of city Gen-Xers worry about not saving enough, 70% worry about not planning enough for retirement and 64% worry about being able to afford the rent or mortgage in the coming years. In each case the number is higher than for city Baby Boomers - though their anxiety is up there too.

We need Generation X to see New York City not just as their current home. AARP wants to help make the Big Apple a desirable place to age, and we're fighting for affordable housing and utilities, and for in-home services that support family caregivers in their efforts to help loved ones live in their homes and communities as long as possible.

We also want to help Gen Xers, and all New Yorkers, save for retirement so they're financially independent and able to afford to stay here.

Incredibly, more than half of this state's private sector workforces - over 3.6 million working people - have no access to any retirement savings plan through their employer. And Americans are 15 times more likely to save for retirement if they have access to such plans.

That's why we're urging a state-sponsored retirement savings option that would be available to virtually all New Yorkers. This "Work and Save" plan would be modeled on the state's highly successful 529 college savings program, with no ongoing taxpayer costs.

Here are some encouraging numbers from our " New York City survey: 82% of the city's GenXers and 74% of Boomers who lack access to employer-sponsored retirement savings plans would enroll in "Work and Save" if they had the option, and 78% and 74% support its creation.

Let's hope our policy makers see the wisdom in establishing a plan that reduces reliance on public assistance, gives businesses a tool to remain competitive in attracting workers, helps New Yorkers help themselves - and will hopefully stem what we're calling a potential "Gen-Xodus."