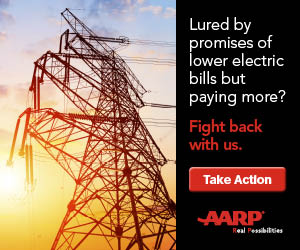 AARP Connecticut released the following statement from AARP State Director, Nora Duncan, in response to Connecticut Governor Dannel Malloy's announcement regarding State efforts to address consumer complaints in the electric supplier market:

See Also: AARP Survey Supports Stronger Protections for CT Electric Customers 

"While we have not seen the legislative language associated with the Governor's proposals, AARP is encouraged by his remarks and his recognition that the third party electric supply market needs to be fixed. We consider this is a starting point and are hopeful that we can achieve meaningful consumer protections this year. We are also well aware that the devil is often in the details. We look forward to reviewing the proposed bill language and sharing it with our members and older residents to ensure that the proposed reforms address the most common issues facing electric customers. AARP pledges to work with the Governor, and members of the General Assembly, to craft a final bill that offers the strongest possible protections for consumers in the third party electric supply market.

"By now we've all heard countless stories from residents about aggressive door-to-door sales pitches, countless violations of the state and federal "Do Not Call" lists, and misleading advertisements. Even worse is that according to a study released by the State's Office of Consumer Counsel, the vast majority of those who have switched suppliers in order to save money on their electric bill, have actually paid more than if they stayed with the Standard Offer. Telling people "buyer beware" simply isn't good enough anymore. We must take action to pass real, meaningful consumer protections this year.

" AARP research shows that there is strong support among age 50-plus voters for specific proposals that would crack down on the most egregious practices of suppliers and ensure that consumers who choose to shop in the deregulated supplier market are treated fairly and are paying the lowest rates possible. Based on our recent survey results and the anecdotal evidence we have collected from AARP members and the general public, AARP is recommending that these practical reforms be included in a meaningful consumer protections bill this session:

• Place a limit/cap on variable rate plans, such as a percentage increase.
• Truth in Contracting: include all fees, not just supply rates in 3rd Party electric supply contracts.
• Reform door to door sales/telemarketing sales: Must wear id badges, provide written contract, must inform of no harm cancellation period, telemarketers can only contact you once per year.
• Expand PURA authority: to ensure plans conform with disclosure requirements, to order restitution to consumers, to order higher bonds to ensure restitution can be paid, to revoke licenses, to enforce customer service standards (such as timely answering of consumer calls). Resources for enforcement must be budgeted.
• Pricing Disclosure: disclose the historical rate for past 12 months, the rate formula that will be followed and whether there is a cap or upper limit on the rate increase, and if so what is the cap.
• Variable Rates Disclosure & Notice: For variable rates, disclose the rate charged for the next billing cycle before that cycle begins (on previous bill), all other price changes require 30 days' notice and affirmative consent.
• No early termination fees/cancellation fees for any plans.
• Ensure customers can switch easily to default service by contacting Electric Distribution Company.
• Prohibit practice of placing customers on variable rate plans when their fixed rate plan expires; if a consumer has not affirmatively chosen a new plan at expiration, they should be placed on Standard (default) Service.
• Ensure low income customers do not pay more than standard offer rate."

Take Action: Send an email to your state legislator and the Governor and tell them to support strong consumer protections for electric customers in Connecticut!