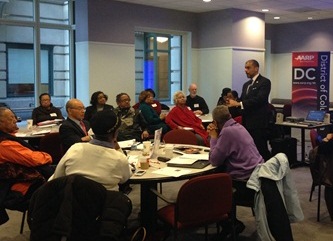 AARP's Southwest Waterfront Chapter #4751 has an exciting program planned for February in observance of Black History Month. Mark your calendar. Current AARP members and prospective members are welcome. For further information, contact Chapter President Betty Jean Tolbert Jones at bettyjeantolbertjones@yahoo.com or call 202-554-0901.

PROGRAM: The preservation of the dynamic history, culture and legacy of African Americans in Prince George's County is captured through the historical programs and exhibits of the Prince George's County African American Museum and Cultural Center (PGCAAMCC).

SPEAKERS: Dr. Jacqueline F. Brown, executive director along with staff members of the Prince George's County African American Museum and Cultural Center. The program coincides with the 2014 National Black History Month Theme: "Civil Rights in America."

WHEN: Wednesday, February 19, 2014 at noon. Lunch will be served at a cost of $5.00 per person.

WHERE: River Park Mutual Homes-Community Room, 1311 Delaware Avenue SW, Washington, DC

About AARP Chapters

AARP members (age 50 and older) and their spouses are eligible for chapter membership. The first AARP chapters were organized in 1960. By 1961, over 100 chapters were organized. Today, there are over 1,400 AARP chapters across the United States, Puerto Rico, and the Virgin Islands. A minimal yearly fee is charged to help run the business of the chapter. Some chapters have fund-raising activities to help support local senior projects, provide scholarships for students, or donate money to worthy causes.
Our chapters offer another way to make AARP the next chapter in your life!
Click here to find a chapter in your area.
(Photo Description): AARP DC State Director Louis Davis, Jr. greets Washington, DC chapter leaders at an annual training event held at AARP headquarters in downtown.