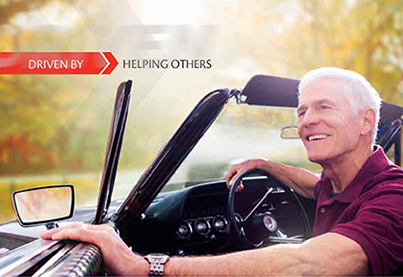 If you are passionate about safety, enjoy helping others and strive to make your community a better place, then AARP Driver Safety would like to meet you. AARP Driver Safety, the nation's first and largest older driver safety effort, recently launched the new and enhanced AARP Smart Driver Course.

Now the program is actively recruiting unpaid volunteers in Wyoming to instruct and promote it. While the program is always looking for additional volunteers all across the state, the greatest need for volunteer instructors is in Kemmerer, Pinedale, and Rock Springs.

As a volunteer-run effort, AARP Driver Safety in Wyoming relies on more than 55 volunteers statewide to facilitate AARP Smart Driver Courses in community centers, libraries, senior centers, the AARP Wyoming office and other facilities. Each year, more than 500,000 participants complete the refresher course in either a classroom or online setting.

Through the AARP Smart Driver Course, participants learn proven safety tips, defensive driving strategies, and how to accommodate for common age-related changes in vision, hearing and reaction time. In addition to learning valuable safety information, the course may help participants save money through multi-year automobile insurance discounts, available in some states upon course completion.*

"If you are a life-long learner, this job is for you. If teaching others or facilitating groups are skills that you have to share, this job is for you. If you are seeking a rewarding opportunity to stay engaged in and give back to your community, this job is for you," said Rich Macht statewide coordinator for AARP Driver Safety in Wyoming.

AARP Driver Safety has a variety of volunteer opportunities available, including:

Instructors: Organize and teach classroom courses at local community centers, libraries, hospitals and senior centers.
Coordinators: Manage AARP Smart Driver Courses in your district, region or state. Recruit and supervise instructors, plan and conduct instructor workshops, and work with local sponsors.
Marketing Specialists: Locate potential classroom host sites, identify publicity or promotion opportunities, and coordinate exhibits at local and statewide events.
We Need to Talk Facilitators: Teach a free seminar designed to help families have conversations with their loved ones about when it's time to cease driving.
CarFit Volunteers: Become a CarFit Technician or CarFit Event Coordinator and help ensure drivers are safely and comfortably fit in their vehicle, and in control behind the wheel.
AARP Driver Safety asks that volunteers be able to dedicate at least 10 hours to the program each month, and have Internet access and an email account.

"I would absolutely recommend volunteering for AARP Driver Safety," Macht said. "This is a very engaging and rewarding program for anyone, of any age, who has a passion for safety. When you go home at the end of the day, you have nothing but a good feeling in your heart and a smile on your face."

To sign up or learn more, please visit www.aarp.org/volunteernow or contact the AARP Wyoming office at 1-866-663-3290 or wy@aarp.org

Please note that all AARP Driver Safety volunteer positions are unpaid. However, volunteers are reimbursed for approved out-of-pocket expenses, such as mileage, parking and basic supplies.

*An automobile insurance discount may depend on a variety of factors, including age and driving record. Participants are encouraged to check with their insurance agent for details before completing the AARP Smart Driver Course.