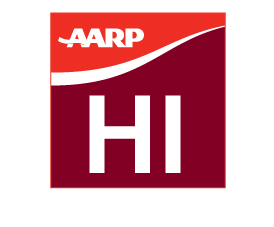 AARP Hawaii
1001 Bishop Street, Suite 625 Honolulu, Hawaii 96813 Phone (toll-free): 866-295-7282 Fax: 808-537-2288 Email:
hiaarp@aarp.org


Aloha. Aging in Hawaii in the 21 st century will be challenging and rewarding. Living through unsettled economic times shaped by an equally unsettled world means we need to pay closer attention to our health and financial security than ever before. At AARP Hawaii, we understand this and we're here to be your ally for life's possibilities. That's why we've made these challenges—your challenges—our own. It's why we're fighting for you on issues that matter to you and your family and making things better for society as a whole.

AARP is a social mission organization with a membership, serving the needs of adult residents and their families. Serving 150,000 members in Hawaii, we advocate at the state legislature, offer access to information and resources, and provide meaningful volunteer opportunities that empower people to create positive change in their lives.

We urge you to get involved and stay informed with AARP Hawaii.