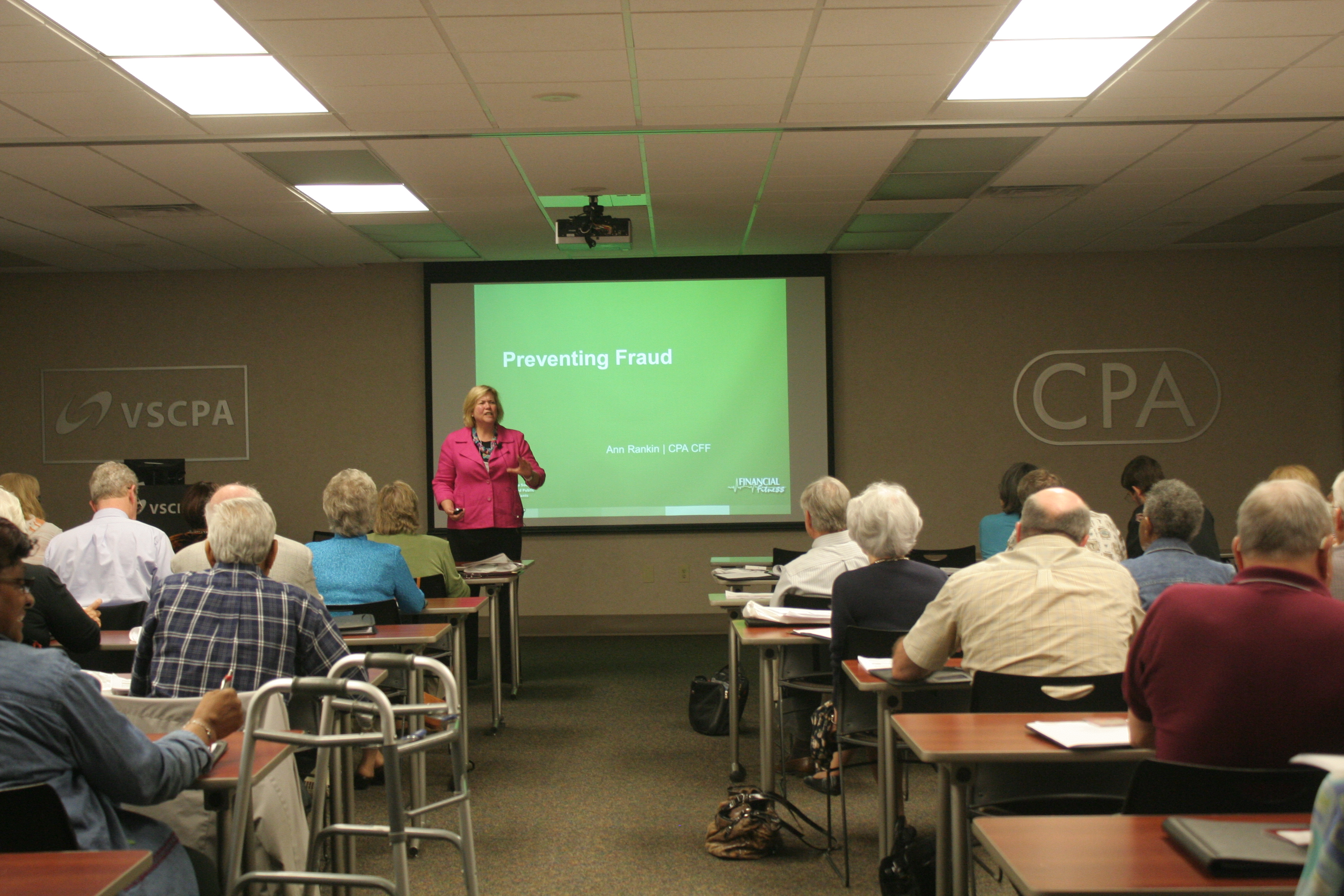 Lee en español.

AARP Virginia and the Virginia Society of Certified Public Accountants (VSCPA) hosted a free financial fitness workshop on May 15, 2013 in order to offer an opportunity for people 50 + to learn more about how to decrease debt, increase savings, and maximize income during retirement.

"AARP is committed to helping people 50+ save real money. We offer helpful tools and information to get people what they need as they work on reducing debt, increasing savings, and planning for retirement. This workshop was one way that we are offering the community an in depth opportunity to increase their financial fitness," said James Brooks, AARP Virginia Associate State Director.

AARP Virginia and VSCPA joined forces to bring together a 50+ audience with experts from the Certified Public Accounting field. This originated out of finding relevant topics, and finding speakers who could speak on point about the specified topics. This event created an opportunity for people 50+ to learn about financial planning from experts and get their questions answered with someone face to face.

Audience members received an engaging presentation from James Shepherd and Anne Rankin on fraud prevention and retirement planning.

Jim Shepherd is a CPA and is the co-founder of Verus Financial Partners. He presented on retirement planning including how to track expenses and managing savings. He also spoke on Social Security benefits, estate planning, and the benefits and problems with insurance. He gave beneficial financial resources for those looking to become more educated on financial planning for the future.

Ann Rankin is a CPA and Chief of Enforcement for the Division of Securities and Retail Franchising. She presented on fraud prevention including ways to recognize financial predators and find financial providers with integrity. She highlighted how to find a provider who gives materials that are easy to understand and straightforward opportunities that are easily researchable.

The audience was able to utilize the CPAs to receive information on financial planning and utilize them as a resource. Participants left feeling more informed and prepared to make good decisions for themselves in their finances.

"I think it went very well, I was pleased with the turnout and interest. The two speakers complemented each other in their presentations and provided good information to audience members. We got a lot of great feedback and appreciation for both organizations," said David Bass, VSCPA Public Relations Manager.

AARP and the VSCPA collaborated to find relevant topics for the audience members, which gave beneficial information for becoming financially literate. Both AARP and the VSCPA host events and initiatives which assist the public on financial planning.

The VSCPA holds a Financial Fitness initiative which helps community members become engaged in financial literacy. Workshops are hosted throughout the year to educate community members on fraud prevention, money management and fiscal responsibility. More information about these events can be found at the VSCPA webpage.

AARP helps to answer questions on financial planning, investments, and Social Security among many other topics. The website offers many tools which can be used for financial success including a Social Security benefits calculator, and a retirement calculator. The program also has articles and webinars on relevant topics.In addition, AARP Virginia conducts workshops around the state throughout the year. More information can be found at the AARP website.

Photos from this event can be viewed at our Facebook page.