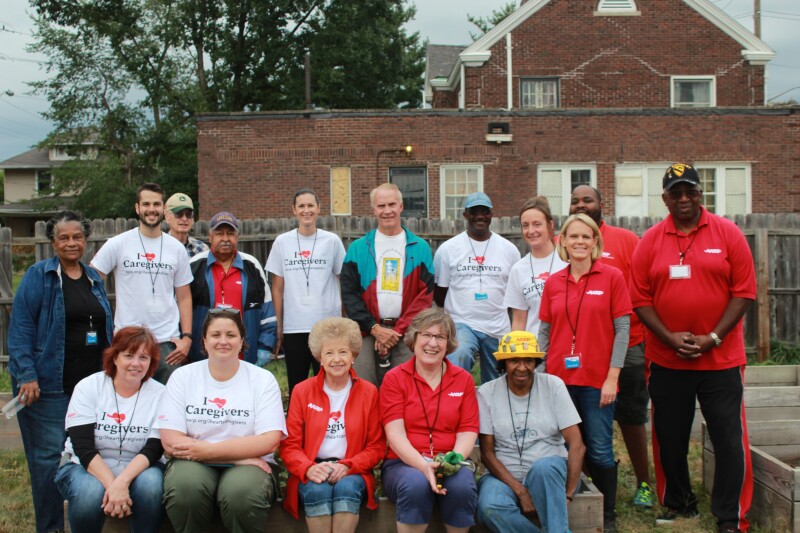 "We learn the inner secret of happiness when we learn to direct our inner drives, our interest and our attention to something besides ourselves."

-Ethel Percy Andrus.

On September 11, 2015, AARP Indiana got their hands dirty for a good cause. Volunteers and staff gathered at the Wheeler Mission Center for Women and Children in Indianapolis to work on the community garden and playground. Wheeler Mission helps women and mothers with children who are in need of food, clothing and housing. The day was filled with hard work but smiles never left the faces of the volunteers and staff.

"The Day of Service was a great success!" said AARP Indiana's newest staff member Pam Rosenberg. "Our staff and volunteers had a lot of fun - we especially liked that we could see the impact of our work right away." Together the crew of all ages worked as a team to pull weeds, harvest tomatoes, and clean up the playground at the center. AARP Indiana is already looking ahead. "The mission of the Wheeler Mission Center really touched all of us, and we are already talking about organizing a day in spring to come back and help plant an herb garden for the women." Pam said. "The director of the Center has invited us to come back and volunteer any time, and we will definitely take her up on that. We hope to continue the spirit of service throughout the year."

AARP Indiana would like to thank the Wheeler Center for Women and Children and everyone who participated during this year's event. Afterwards, AARP Indiana had lunch at St. Joseph Brewery and Public House to celebrate the job well done.

National Day of Service is an AARP initiative where staff and volunteers throughout the country commemorate the victims of the 9/11 terrorist attacks by engaging in volunteer projects on September 11. The goal is to improve the lives of others within their communities. In addition to the service events throughout all of the states, volunteers packed meals during AARP Foundation's "A Celebration of Service" event on the National Mall in Washington, D.C.