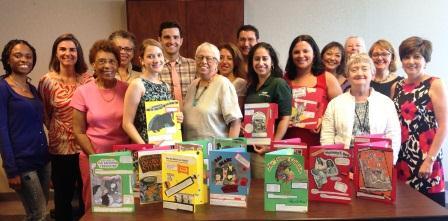 UPDATE: 9/20/13, 10:54 a.m.: AARP Massachusetts staff and volunteers enjoyed a successful 9/11 Day of Service, creating several decorated book folders for Generations Incorporated. The book folders will be used by volunteer reading coaches with Generations Incorporated, who work with Boston schoolchildren in grades K-3 to help improve the children's literacy skills. Watch a video of the Day of Service, and thank you to our wonderful volunteers who participated!

Wednesday, Sept. 11, 2013, staffers at every AARP office across the country will get out from behind their desks and go out into their local communities as volunteers to take part in the nation's 9/11 Day of Observance.

Here at AARP Massachusetts, employees will be working with Generations Incorporated, an agency dedicated to improving literacy among Boston public schoolchildren through grade 3. In turn, many adults serve as reading coaches for the youngsters in Generations Incorporated afterschool programs. AARP staff, joined by several community volunteers, will assemble literacy materials to be used by volunteers throughout the year for work as reading coaches.

Are you interested in giving back on 9/11? Wondering where to find volunteer opportunities in your community? Look no further than Create the Good, an organization inspired by AARP's own Dr. Ethel Percy Andrus who founded AARP when she was 73. Simply input your zip code and volunteer opportunities for 9/11—and every day of the year—will pop up for you to peruse. There are even ways to volunteer from the comfort of your own home.

Suppose nothing comes up in your community that feels right for you? Try our Volunteer Wizard. Answer 7 simple questions about your interest and availability, and volunteer opportunities will be delivered to you instantly.

Simplest of all is taking the " I Will" pledge, in which you simply pledge to perform a good deed on 9/11. It's a simple yet effective way of countering the tragedy of 9/11 with the resolute spirit that makes our country what it is. You can even dedicate your pledge to a 9/11 victim or to someone you choose to name.

And while you're giving back, please take photographs of yourself and other volunteers and upload them to our AARP MA Facebook page for all to see and enjoy!

VIDEO: Watch a video from the AARP Massachusetts 9/11 Day of Service:


http://youtu.be/pTiSxZNLk9E[/youtube]

Generations Incorporated is the local affiliate of AARP ExperienceCorps. For more information, email AARP Massachusetts at ma@aarp.org.