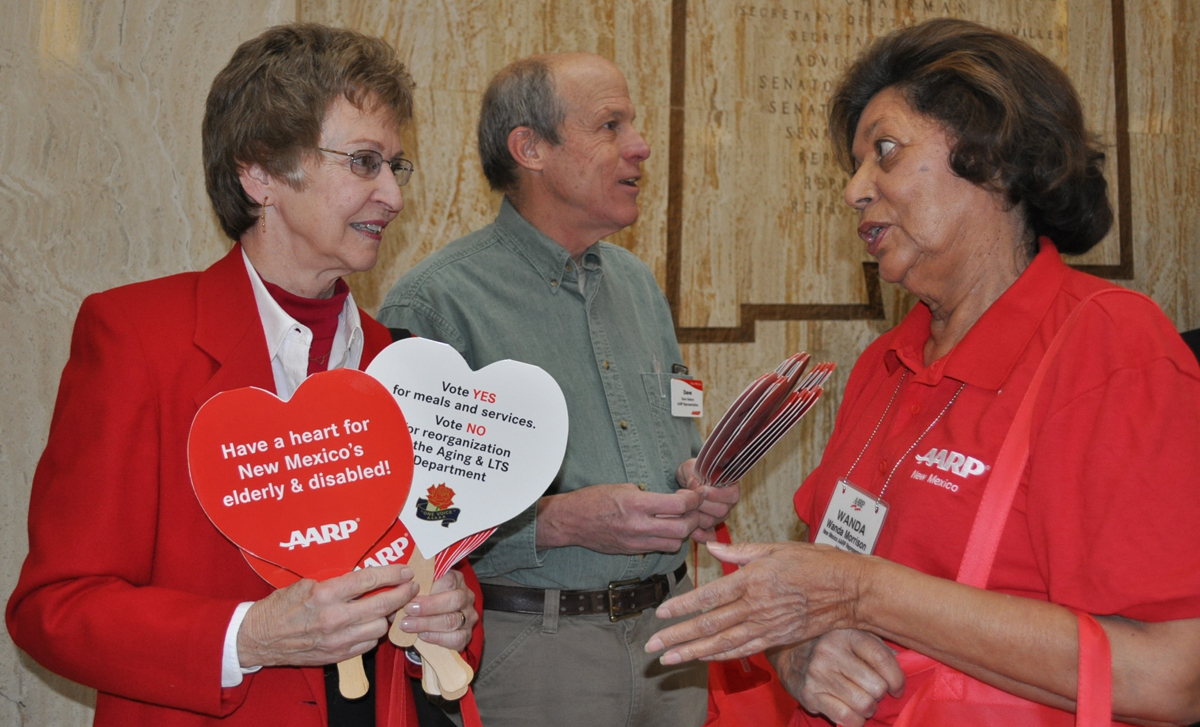 The New Mexico State Legislature will get underway for the 2013 session beginning Jan. 15th at noon and for AARP New Mexico, finances will once again take most of its focus. Although indicators are predicting an increase in state revenues, money is still tight and forecasts are still below the levels New Mexico enjoyed before the recession. As a result, the state budget will still be tight.

"Just like we've done the last couple of years, AARP will be monitoring both Medicaid funding and funding for senior programs," said Michael Donnelly, AARP New Mexico State Associate Director of Advocacy. "We want to ensure at the very least services for those two areas remain at current funding levels. New Mexico has been fortunate compared to other states that we've been able to maintain services for these populations and have not witnessed any significant budget cuts for either area."

Since Gov. Susana Martinez has indicated she will move forward with implementing a health exchange for the state as part of the federal Affordable Health Care Act, Donnelly said it makes sense that the Legislature may take a hand in developing that process. "If a legislator does put any proposals together on implementing the health exchange or what it should look like, AARP will be taking a close look at those proposals and what they mean for New Mexicans weigh in on any proposed legislation," he said.

Pensions will be another priority issue that AARP will be monitoring, particularly the transparency on how options for insurance coverage are explained. "We expect that the Legislature will be working on a couple of different proposals that will help extend the solvency of the retirement accounts for PERA (Public Employees Retirement Association) and the ERA (Educational Retirees Association). AARP volunteers, who work the session on AARP's behalf, will be monitoring those proposals to ensure that retirees now and in the future are adequately protected and provided for," Donnelly said.

But not all AARP New Mexico's work will be financially focused with consumer issues such as guardianship rights, Driver Safety discounts, and the future of the Public Regulation Commission, are also among some of the top issues AARP will be working on.

"There are concerns that we have more elderly people, who find themselves under a guardian's care, are being taken advantage of. There will be legislation being introduced that will protect these individuals better," Donnelly said.

AARP New Mexico will be working on legislation that will bring the Driver Safety classes currently operating in the state into alignment with national guidelines. Currently the program allows people age 50 and older to take part in the class and be eligible for a discount on their insurance. However, under current New Mexico state law, only individuals age 55 and above are eligible for the program and the coinciding insurance discount.

AARP New Mexico State Director Gene Varela said, "We want to change the state statute so that all New Mexicans over the age of 50 can take advantage of the program and the subsequent discount. Plus the course, which serves as a refresher for older drivers, does make people safer drivers, which makes our roads safer. It just makes sense to offer this course to a wider range of people." (See more on this measure at www.aarp.org/nm )

During the Nov. 6th election, voters approved a number of measures affecting the Public Regulation Commission including developing qualifications for the commissioners. It will be up to the Legislature to decide what those specific qualifications will be.

For more information on AARP New Mexico's legislative priorities or other work being done in the state, please call 1-866-389-5636 or visit us throughout the Legislative Session at www.aarp.org/nm .



Photo caption: AARP New Mexico volunteers Jackie Cooper, David Nelson and Wanda Morrison, confer while handing out heart shaped signs to seniors urging legislators to protect funding for senior services during Senior Day at the 2011 New Mexico Legislative Session.