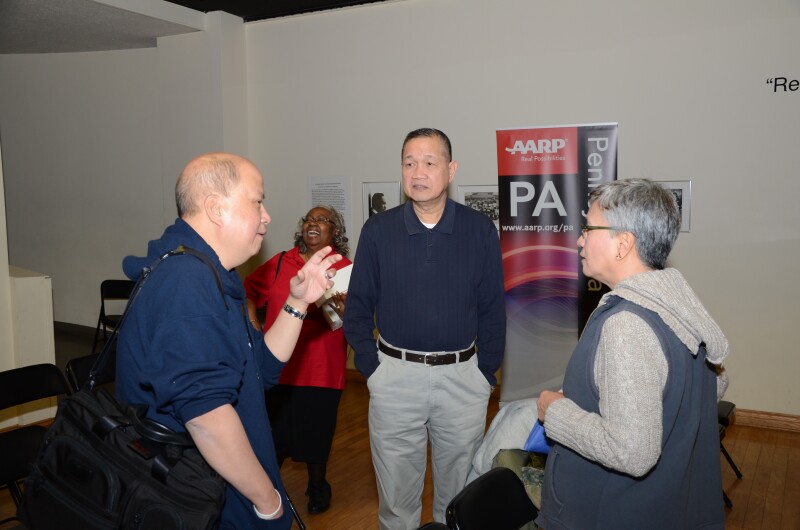 AARP Pennsylvania hosted an educational workshop with the Philadelphia District Attorney's Office on Saturday, November 8, at the African American Museum of Philadelphia, to educate the 50+ in Philadelphia about identity fraud, crime prevention and what consumers can do if they've been victimized by identity thieves. AARP Pennsylvania also hosted a Shred-it ©truck on-site that provided free document destruction services for dated documents containing personal information.
Attendee Alberta Copeland, from West Philadelphia, came to the workshop because her personal information was once compromised. She has since gotten into the habit of removing personal information from mail that she discards. Yet, Copeland also gleaned some useful information from the workshop and discussion.
"After hearing our speakers today and listening to the stories in the room, I learned there's no need for me to carry all of my information around, like multiple credit cards, checks and my social security card," said Ms. Copeland. "I'm looking forward to more workshops like these."
Thomas Carter, from the Philadelphia District Attorney's Office, informed participants that the DA's office takes special care to protect the discussion city's most vulnerable population – seniors. Carter provided real time stories of crimes and scams to watch out for, particularly as the holidays approach. According to Carter, people should be wary of those with 'stories' around the holidays, and be careful about engaging with random callers. Carter informed the crowd about national scams preying on grandparents, where con artists pose as family members with fake emergencies to steal money from unsuspecting persons through wire transfer. He encouraged the group to consider using credit protection services on credit cards and to be mindful about credit card receipts, especially around the holidays.
Tony Watchotsy, from the AARP PA Consumer Issues Task Force, also offered information and tips for consumers to prevent identity theft during the holidays and throughout the year. He advised attendees to obtain credit reports from all the credit reporting agencies annually - Experian, TransUnion and Equifax – getting one every 4 months. Other tips he provided included knowing when the mail comes every day, shredding unwanted credit card and consumer offers and when shopping taking only the forms of payment you plan to use, be it cash, one credit card or one check.
Watchotsy also led a lively Q&A session, where attendees asked questions about their specific concerns and shared their own stories and tips. Watchotsy is a member of AARP Pennsylvania's Consumer Issues Task Force which promotes financial security and consumer protection for all Pennsylvanians, educating members and the public about fraudulent, misleading, unfair, and/or abusive marketplace practices. The task force offers workshops and resources for citizens interested in protection from identity theft, investment fraud, and Medicare scams, or who simply want to learn better consumer practices.
The Consumer Issues Task Force leads the way for the launch of the national AARP Fraud Watch Network, coming early 2015. The AARP Fraud Watch Network is designed to give Pennsylvanians access to information to help protect them and their families from theft and fraud. It's free and open to everyone – members, non-members and people of all ages – and it allows people who sign up access to watchdog alerts about active scams in their area, resources to help them spot and avoid con artists latest tricks, and local events in your area to help protect you and your family. More information can be found on www.aarp.org/fraudwatchnetwork