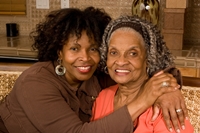 Being a family caregiver is a major responsibility - a responsibility that over 2.4 million Illinoisans have unselfishly taken on to help ensure that their loved ones can live independently at home and avoid costly institutional settings. AARP Illinois is advocating for the passage of a state law that will help give these family caregivers the resources and training they need to be able to continue to care for their loved ones following a hospital stay.

The CARE Act (Caregiver Advise, Record, and Enable Act), sponsored by Sen. Chapin Rose (SB 1298) and Rep. Jerry Costello (HB2915), was recently introduced in Illinois. The CARE Act recognizes the critical role that family caregivers play in keeping their loved ones out of costly institutions.

The Act contains three important provisions:



The name of the family caregiver is recorded when a loved one is admitted to the hospital;

The caregiver is notified if the loved one is to be discharged to another facility or back home; and,

The hospital must provide an explanation and instruction of after-care tasks that will need to be performed by the caregiver, such as medication management, wound care, injections, etc.


Most older adults who require assistance in their home rely exclusively on unpaid family caregivers. The cost of that unpaid care is estimated to be over $18 billion per year in Illinois alone. While family caregivers take on their roles willingly - often straining their own physical and financial capacities - they are also frequently not adequately trained for their role.

According to a 2009 report from AARP ( Home Alone: Family Caregivers Provide Complex Chronic Care):

Most care recipients (69%) did not have a home visit by a health care professional after discharge from a hospital.
Almost half (46%) of family caregivers performed medical/nursing tasks for their loved ones with multiple chronic physical and cognitive conditions.
Over three-quarters (78%) of caregivers who provide these medical or nursing tasks manage medication, including administering intravenous fluids and injections.
Most family caregivers report that they receive little or no training for these tasks.


The CARE Act simply aims to provide family caregivers with the information and training they need to care for their loved ones at home, helping to avoid future hospitalizations and costly institutional care.

Don't want to take our word for it? Check out what these caregiving experts are saying about the CARE Act.

Stay tuned for more updates on the progress of the CARE Act in Illinois!