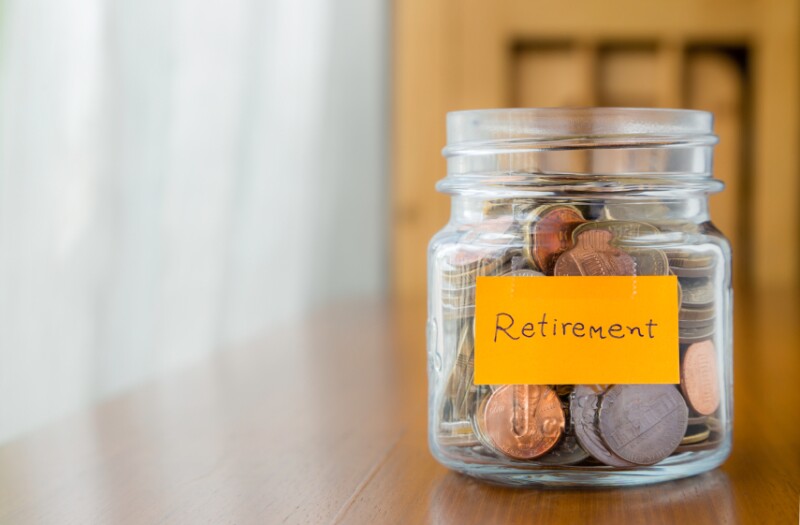 Today, a secure retirement is out of reach for more than 600,000 Connecticut residents. These hard-working women and men work for small businesses and don't have a retirement savings plan available to them through their employer. And most fear they whatever they've saved on their own, if anything, is not enough for their retirement.

That's why AARP Connecticut is supporting passage of a new and easier way for residents to build their own private retirement savings when a workplace retirement opportunity doesn't exist for them. House Bill #5591, An Act Creating the Connecticut Retirement Security Program, is based on the work of the Connecticut Retirement Security Board, and would create a private sector retirement savings program in the state for small business employees. These programs would give employees who don't currently have a workplace savings plan a simple option to save for their future.

TAKE ACTION ---> Click here to urge your legislators to support HB #5591

These private sector workplace retirement savings plans plan would be independent of employers and the government, and would be completely voluntary for workers. They would also be portable, meaning that each employee's retirement savings would stay with them, no matter where they work, thereby giving them a long-term retirement saving solution.

  Read the AARP Bulletin January article on workplace retirement savings plans, which features AARPCT volunteer Bill Kosturko of Killingworth."



A recent survey of 1,000 Connecticut registered voters revealed the following:

Seventy-nine percent, or 8 out of ten, of Connecticut registered voters, age 35-64, agree that elected officials should support a state retirement savings plan.
Eighty-eight percent say they wish they had saved more for retirement.
Sixty-one percent, or 3 out of 5, say they are concerned that some residents have not saved enough for retirement and could end up being reliant on public assistance.
These voters say that such a plan should be easy to use and low-cost, and should follow workers from job to job.


TAKE ACTION ---> Click here to urge your legislators to support HB #5591



The survey, A Common Sense Approach: The 2016 Connecticut Work and Save Plan, was conducted by the AARP Public Policy Institute and released in January 2016 and polled 1,000 register Connecticut voters, ages 35-64.

In early January 2016, the Connecticut Retirement Security Board (CRSB) submitted its evidence-based recommendations to the Legislature, which were overwhelmingly in favor of creating a voluntary retirement savings program for private sector workers in the state who are currently without access to a workplace savings plan.

AARPCT was pleased that, after more than a year of extensive research in consultation with organizations specializing in retirement savings, the CRSB determined that creating a plan at no cost to taxpayers is feasible and would address the retirement savings crisis in Connecticut.

In the U.S., there is a $7 trillion retirement savings deficit among older Americans according to data from The Center for Retirement Research at Boston College. Further, AARP Public Policy Institute studies show that people are 15 times more likely to save for retirement if they can do so through a payroll deduction program at work. The survey results collected were across a spectrum of political views.

The CRSB was created in 2014 by the Connecticut Legislature and charged with providing legislators with a recommendation about the efficacy of a workplace savings plan for workers in the state without access to such a program.

And most small business owners agree. In 2015, the AARP Public Policy Institute released Giving Small Businesses a Competitive Edge: The Connecticut Retirement Savings Plan — a survey of 450 small business owners in Connecticut, which showed that 60 percent of them support private sector workplace retirement savings programs in Connecticut. The businesses, which had between 5-50 employees, included a mix of political leanings, with 29 percent self-identified as conservative, 40 percent as moderate, and 17 percent as liberal, and were also mixed along the lines of age, gender, tenure, and more.

Further, nearly 80 percent of these small business owners agreed that Connecticut officials should be doing more to encourage residents to save for retirement, and reported that they preferred low-cost, voluntary plans that would be portable, e.g., follow employees from job to job, offering flexibility and security for the employees' future.

The 2015 survey also found that two in five small business owners do not provide a retirement savings plan to their employees, and about one in five do not even have a retirement plan for themselves. The most common reason cited was cost (49 percent). However, 64 percent of those who don't currently offer a retirement plan said they would use the public plan if it was offered.

To read more about the small business owner survey, visit Giving Small Businesses a Competitive Edge: The Connecticut Retirement Savings Plan.



Click here to urge Gov. Malloy and your legislators to support HB #5591


Interested in learning more? Community and civic groups can request a speaker on this issue by contacting AARPCT Outreach Director Erica Michalowski at emichalowski@aarp.org or 866-295-7279 (toll-free).

To volunteer to help with such presentations and/or to work with policymakers, contact AARPCT Outreach Specialist Elaine Werner at ewerner@aarp.org or 866-295-7279.