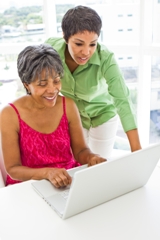 This April, AARP and the U.S. Small Business Administration (SBA) are teaming up to host National Encore Entrepreneur Mentor Month, targeted at new business owners age 50 and over and those interested in starting a business. The goal is to match these "encore entrepreneurs" with experienced business owners and community leaders for advice and assistance, and to link them to the resources they need to successfully start and grow their businesses and create jobs.

National Encore Entrepreneur Mentor Month is part of a larger effort by AARP and SBA to promote entrepreneurship among individuals ages 50+. It will consist of events across the country, including two in Connecticut, on April 16 in Waterbury and April 18 in Bridgeport, that will link individuals with local resources and mentor opportunities to help them successfully start and grow a small business.

With one in four Americans ages 44 to 70 interested in becoming entrepreneurs, and a large majority planning to work during retirement, small business ownership is a good option.

According to AARP State Director Nora Duncan, "AARP's work with the SBA is part of our overall efforts to help middle class Americans navigate those "what's next?" moments in work and career and realize their goals and dreams." It includes AARP's Work Reimagined, a unique new way for experienced workers to advance themselves in today's tight job market.

Work Reimagined is a social network based jobs program that connects employers seeking experienced workers with qualified professionals searching for new or more satisfying careers. The site, www.workreimagined.org , leverages the platform of professional networking site, LinkedIn, which is used by more than 15 million people aged 45-64. AARP's Work Reimagined and other resources for experienced workers over age 50 will be highlighted in a segment on WTNH's Connecticut Style program airing Wednesday, April 3, 2013 at 12:30 p.m. following the News 8 at Noon. Be sure to check out the program to learn more about this exciting initiative that is helping experienced workers find jobs and achieve their career goals.

The in-person AARP/SBA workshops in April will feature presentations by SBA, SCORE, reSET (Social Enterprise Trust), The Women's Business Development Council (WBDC), People's Bank and local economic development agencies. Attendees will have the opportunity to ask questions and speak individually with representatives, as well as network with other small business owners and "would be" entrepreneurs. Registration is required.

To learn more and register for the events, please click on the links below:

April 16, 2013 in Waterbury

9 a.m. – 12 p.m. (noon)

Silas Branson Library

267 Grand Street

Waterbury, CT

To register, call 1-877-926-8300 or register online



April 18, 2013 in Bridgeport

9 a.m. – 12 p.m. (noon)

City Hall Annex

999 Broad Street

Bridgeport, CT

To register, call 1-877-926-8300 or register online.



For more information about encore entrepreneurship, please visit: www.aarp.org/startabusiness .





Cosponsorship Authorization #12-7630-141 SBA's participation in this cosponsored activity is not an endorsement of the views, opinions, products or services of any cosponsor or other person or entity. All SBA programs and services are extended to the public on a nondiscriminatory basis.