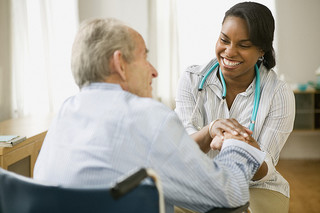 AARP recently testified before the Human Services Committee of the Connecticut General Assembly in support of H.B. 5919, An Act Concerning Presumptive Medicaid Eligibility for Home Care. This law would help older adults and those with disabilities attain home care services in a more timely fashion.

AARP is a nonprofit, nonpartisan organization, with a membership of more than 37 million, nearly 600,000 of whom live right here in Connecticut, which helps people age 50 and up turn their goals and dreams into real possibilities, strengthens communities and fights for the issues that matter most to families such as healthcare, employment security and retirement planning. In 2010, AARP in partnership with The Scan Foundation and The Commonwealth Fund released a multidimensional Scorecard to measure state-level performance of long-term services and supports for older adults and people with disabilities. Connecticut ranked 11 overall, but our state received only mediocre scores in consumer choice. States that lead the way in consumer choice share common characteristics, including timely eligibility determinations for home care services.

Hospitals account for nearly half of all nursing home admissions. When decisions must be made quickly at a time of crisis, state Medicaid programs must be able to arrange for HCBS in a timely manner. Failure to determine timely eligibility for Medicaid HCBS often results in unnecessary nursing home placement.

H.B. 5919 addresses the significant delay faced by older adults when they try to access services at home. Determining financial eligibility for Medicaid applicants for community-based services in 2011 took an average of 134 days. The Standard of Promptness set by CMS requires action on an application within 45 days from presentation. Without timely decisions these applicants' health and well-being could be at risk and the long delay may determine whether they remain in a community setting or enter a nursing facility. The cost differential is steep. On average, the cost of serving a Medicaid client in the community is approximately one third the average cost of serving that individual in an institution.

Under the proposal, presumptive eligibility would be available to applicants for the CT Home Care Program for Elderly, who have been pre-screened to meet functional eligibility and deemed likely to meet Medicaid's financially eligibility. Connecticut already has some experience with presumptive eligibility for pregnant women and children. It is needed by our elders for home care.