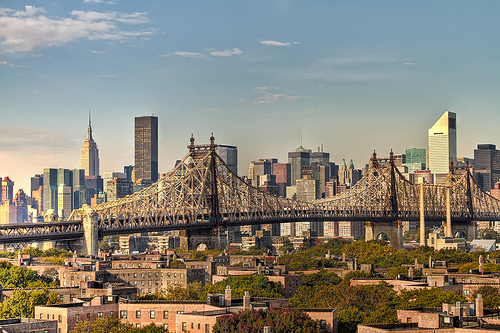 Contact: David Irwin (212) 407-3718 dirwin@aarp.org
As 54% of Voters Expected to be 50+, Assoc. Launches Citywide Efforts to Get Candidates Talking about Middle-Class Issues Critical to Group
NEW YORK, NY – Voters age 50 and older will determine the next Mayor of New York City as well as who wins every City Council seat on the ballot - and the group has some tough issues on their minds. With that backdrop, AARP is bringing its massive voter engagement approach to the races for the first time, reaching out to the most powerful voting demographic and the candidates to move those issues to the forefront.

The Association has roughly 500,000 members in NYC and, based on a recent analysis , expects a full one-third of all ballots cast to come from an AARP member with more than half of votes coming from a 50+ voter.

"50+ voters are a powerhouse group in New York City elections and they want their kitchen table issues addressed by the candidates asking for their votes," said Beth Finkel, State Director for AARP New York. "While AARP doesn't endorse candidates or give money to any campaign or political party, we typically engage voters, candidates, the public, and the media at the state and federal level. This time, because these are such huge local races, our members have been loud and clear they want us involved raising issues important to 50+ voters in the Mayoral and Council races."

Through a series of town halls, a social media campaign, online outreach, debates, community events and grassroots activism, AARP is focusing on key matters for middle-class 50+ voters: jobs and the economy, housing affordability, sandwich generation issues such as caring for aging parents and older children, as well as how to make NYC a better place to live, work and age.

As part of its non-partisan, non-endorsing voter engagement activities, AARP also will urge the candidates to provide their solutions to the key issues, both at debates and on voters' guides. The Association also has several surveys fielded with 50+ voters on key issues they care about and want to see candidates address.

AARP also is teaming up with some of the biggest names in NYC politics, the Hispanic Federation, the Asian American Federation, the NAACP, and the National Association of Latino Elected Officials, to host a powerhouse Mayoral primary debate in early August, tackling issues crucial to the 50+ and multicultural voters.

The bigger the election, the greater the turnout for the age group: over the last five years, 68% (307,939 – roughly 26% of the NYC voting electorate in 2009) of AARP members voted in NYC local elections; when a federal race was on the ballot, the participation rate soared to nearly 80% (357,753 – roughly 30% of the NYC electorate in 2009). With the magnitude of the city races this year, AARP fully expects to see a very high percentage of its members hit the polls.

Follow us on Twitter: @AARPNY and Facebook: AARP New York



AARP is a nonprofit, nonpartisan organization, with a membership of more than 37 million, that helps people turn their goals and dreams into real possibilities, strengthens communities and fights for the issues that matter most to families such as healthcare, employment and income security, retirement planning, affordable utilities and protection from financial abuse. We advocate for individuals in the marketplace by selecting products and services of high quality and value to carry the AARP name as well as help our members obtain discounts on a wide range of products, travel, and services. A trusted source for lifestyle tips, news and educational information, AARP produces AARP The Magazine, the world's largest circulation magazine; AARP Bulletin; www.aarp.org ; AARP TV & Radio; AARP Books; and AARP en Español, a Spanish-language website addressing the interests and needs of Hispanics. AARP does not endorse candidates for public office or make contributions to political campaigns or candidates. AARP Foundation is an affiliated charity of AARP that is working to win back opportunity for struggling Americans 50+ by being a force for change on the most serious issues they face today: housing, hunger, income and isolation. AARP has staffed offices in all 50 states, the District of Columbia, Puerto Rico, and the U.S. Virgin Islands. Learn more at www.aarp.org .

####