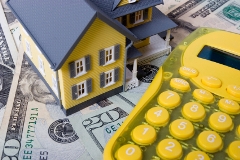 For Immediate Release
Contact: David Irwin (212) 407-3718 dirwin@aarp.org
New AARP Calculator Shows How Much New York Seniors & Veterans Would Lose From Chained CPI Proposal


New York, NY – With President Obama set to deliver his budget next week, a proposal to deliver cuts to Social Security and veterans' benefits keeps surfacing – the chained CPI. Under the proposal, New Yorkers stand to lose $8.46 billion in Social Security and veteran benefits over the next 10 years. But, today, AARP is telling New Yorkers: don't just take our word for it, do the math – and has announced a new chained CPI Calculator to help the public do just that.

"We can calculate the cuts a chained CPI would deliver down to the state and county level, and show people the larger impact of this proposal on benefits, but the debate doesn't hit home until people see what the cuts will mean directly to their hard-earned benefits," said Beth Finkel, State Director for AARP in New York. "The chained CPI proposal is like a bad penny, it keeps coming back – most people have no idea what it means to them, their family, veterans and others. We're hoping to change that."

The chained CPI would change the way the cost-of-living adjustment, or COLA, is calculated for Social Security, veterans' disability and military pension benefits, assuming that when prices for one item goes up, people settle for cheaper substitutes (for example, if beef prices go up, they'll buy chicken). The "substitution" theory under a Chained CPI is inaccurate as most seniors can't simply trade down in their spending on prescription drugs, utilities and other fixed expenses. The move cuts benefits for seniors and veterans who are already stretched by prescription drugs, utilities and health care costs. As they get older, the impact of a chained CPI only gets worse as the cut grows bigger every year, hitting people the hardest as they age and have exhausted much of their savings.

The Association is calling on Congress and the President to oppose a chained CPI and to hold a separate debate around the solvency of Social Security.

Follow us on Twitter: @AARPNY and Facebook: AARP New York



AARP is a nonprofit, nonpartisan organization with a membership that helps people 50+ have independence, choice and control in ways that are beneficial and affordable to them and society as a whole. AARP does not endorse candidates for public office or make contributions to either political campaigns or candidates. We produce AARP The Magazine, the definitive voice for 50+ Americans and the world's largest-circulation magazine with over 35.1 million readers; AARP Bulletin, the go-to news source for AARP's millions of members and Americans 50+; AARP VIVA, the only bilingual U.S. publication dedicated exclusively to the 50+ Hispanic community; and our website, AARP.org. AARP Foundation is an affiliated charity that provides security, protection, and empowerment to older persons in need with support from thousands of volunteers, donors, and sponsors. We have staffed offices in all 50 states, the District of Columbia, Puerto Rico, and the U.S. Virgin Islands.

####