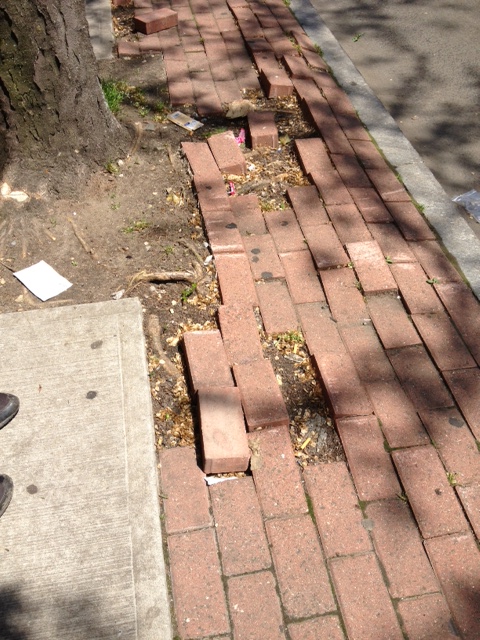 Bridgeport Mayor Bill Finch and representatives from the City of Bridgeport joined AARP volunteers and Tri-State Transportation Campaign staff on May 13, 2013 to conduct a "walkability audit" of East Main Street in Bridgeport between Crescent Avenue and Stillman Street. The audit was conducted to help identify pedestrian access and safety issues in an area that includes the East Side Senior Center and a planned future senior center, as well as a Greater Bridgeport Transit bus route (Route 9) and several small businesses.
The event kicked off with welcome remarks by Mayor Finch at 10:00 a.m. in front of the planned senior center on the east side of East Main St. and Barnum Avenue.
0000016b-01a1-dd13-abeb-61efffec0000 http://youtu.be/wrfwPhC-6AI[/youtube]

According to AARP State Director Nora Duncan, "Accessible streets and sidewalks are not only a critical link in our transportation system, they are vitally important to helping Bridgeport residents access essential community services, stay active, and give back to their communities."



"It's especially important to target pedestrian improvements to areas where older people live and access services," said Veronica Vanterpool, Executive Director of Tri-State Transportation Campaign. "We hope the state will build on its commitment to Complete Streets and boost pedestrian safety investment in neighborhoods like this one."



As part of the audit, participants evaluated and rated the features and walkability of East Main Street, using a survey developed by AARP. Among the questions they considered:

• Can I safely and easily walk on my sidewalks?

• Do I have enough time to get across the street?

• Is this a secure, comfortable and appealing place to walk?



Following the audit, participants provided feedback and discussed their findings and follow up. Results of the audit are being shared with policymakers, engineers, and others concerned with making this area of Bridgeport a safer, more comfortable, and more appealing place for pedestrians and all users.

VIEW photos from the day and some of the issues the audit uncovered.



Complete Streets

Complete streets is a design philosophy that states our roads should be designed to be safe, comfortable, and convenient for everyone, regardless of age or ability – motorists, pedestrians, bicyclists, and public transportation riders. States and municipalities across the country are embracing complete streets because streets that accommodate everyone have safety, quality of life, and economic benefits.



The City of Bridgeport's BGreen2020 environmental sustainability plan recommends complete streets improvements, and the Greater Bridgeport Regional Council has also developed a complete streets plan for the city. The GBRC found a concentration of pedestrian crashes along East Main Street and suggested pedestrian improvements on East Main south of Noble Avenue.



Complete Streets and Older Pedestrians

Complete streets are particularly important as a way to help older residents "age in place." As people age, some will stop or limit their driving. More than half of older Americans who do not drive stay home on a given day because they lack transportation options.



According to AARP, almost 40% of Americans over the age of 50 say their neighborhoods lack adequate sidewalks, 55% report inadequate bike lanes or paths, and 48% have no comfortable place to wait for the bus.



These incomplete streets can even have deadly results: According to the Tri-State Transportation Campaign's Older Pedestrians at Risk report, pedestrians aged 60 years and older represent 19% of Connecticut's population, but account for over 36% of pedestrian fatalities (based on federal data from 2008-2010).



The Campaign also recommends that the Connecticut Department of Transportation (ConnDOT) develop and fund Safe Routes for Seniors and Safe Routes to Transit programs aimed at improving pedestrian conditions in areas with large senior and transit-using populations. Similar programs exist in both New York and New Jersey.

Learn more about Complete Streets.



AARP is a nonprofit, nonpartisan organization, with a membership of more than 37 million, that helps people turn their goals and dreams into real possibilities, strengthens communities and fights for the issues that matter most to families such as healthcare, employment security and retirement planning. We advocate for consumers in the marketplace by selecting products and services of high quality and value to carry the AARP name as well as help our members obtain discounts on a wide range of products, travel, and services. A trusted source for lifestyle tips, news and educational information, AARP produces AARP The Magazine, the world's largest circulation magazine; AARP Bulletin; www. aarp.org; AARP TV & Radio; AARP Books; and AARP VIVA, a bilingual news source. AARP does not endorse candidates for public office or make contributions to political campaigns or candidates. The AARP Foundation is an affiliated charity that provides security, protection, and empowerment to older persons in need with support from thousands of volunteers, donors, and sponsors. AARP has staffed offices in all 50 states, the District of Columbia, Puerto Rico, and the U.S. Virgin Islands. Learn more at www.aarp.org .

Tri-State Transportation Campaign is a non-profit organization working toward a more balanced, transit-friendly and equitable transportation system in Connecticut, New York and New Jersey. Learn more at tstc.org.