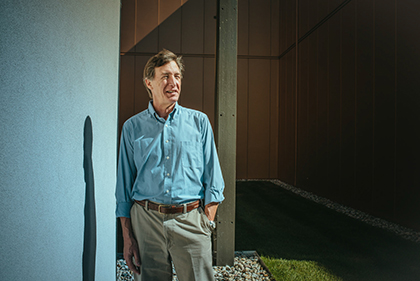 By Rick Haglund

For Cleve Lee, the opportunity to purchase health insurance through a marketplace established by the federal Affordable Care Act (ACA) couldn't come soon enough.

Lee, 62, retired last year as general manager of European operations for a large manufacturer but has no employer-paid coverage in retirement. He bought private insurance for himself and his wife on the open market after his federal COBRA coverage ran out, but is looking for a better deal through Michigan's federally operated health insurance exchange.

A health scare several years ago convinced Lee that going without coverage could wipe him out financially. One day, his eyes suddenly couldn't focus. The problem was diagnosed as a brain hemorrhage and required delicate surgery to repair.

He's fine now, but "it was totally unexpected and a real eye-opener," said Lee, who lives in Farmington Hills, a Detroit suburb. "The reason I want and need insurance is to protect wealth in retirement. Without any notice, anything can happen."

Wide range of benefits

Michigan residents and small businesses are able to choose from among roughly 73 plans offered by 13 companies through the health insurance marketplace, also called an exchange. Consumers can compare coverage and premiums and sign up for a policy.

Adult children are able to stay on their parents' insurance until age 26, and insurers cannot deny coverage or charge higher premiums based on preexisting medical conditions, a person's gender or occupation.

People who enroll by Dec. 15 will have coverage on Jan. 1. People who enroll later will receive coverage about a month after they sign up. Anyone can buy a policy in the marketplace, although it is aimed at uninsured individuals.

More than 237,000 Michigan residents ages 50 to 64 don't have coverage, according to a study by the AARP Public Policy Institute.

Of those, more than 98,000 uninsured people in that age group will be eligible for Medicaid when new income eligibility thresholds take effect this spring.

To make sure people are aware of the marketplace and enrollment process, 30 AARP Michigan volunteers are speaking at community centers, health fairs and other events around the state.

They conducted roughly three dozen sessions from August through October, said volunteer coordinator Barbara Spreitzer-Berent.

To learn about the enrollment process and the insurance plans, consumers can call a 24-hour telephone hotline—800-318-2596—or visit HealthCare.gov. Trained "navigators" and certified counselors provide one-on-one assistance.

Plans offered through the exchange come in four levels—bronze, silver, gold and platinum—with bronze considered basic coverage, silver standard, and gold and platinum higher coverage with higher premiums. There are variations within each level.

All plans must cover basic health care such as doctor visits, hospital stays and prescription drugs, and they can't charge a copayment for preventive care such as mammograms or blood pressure screenings.

Older people who buy private insurance before they are eligible for Medicare at 65 cannot be charged more than three times the rate of younger customers' premiums.

Subsidies for some

Individuals with incomes up to about $46,000 or a family of four with income up to about $94,000 may qualify for a subsidy that can be used to lower monthly premiums or taken as a credit on their federal income tax returns. Nearly 111,000 uninsured residents ages 50 to 64 are eligible for premium subsidies in the exchange. The Kaiser Family Foundation has created a calculator that can help consumers determine if they are eligible for subsidies and how much they could pay for insurance on the exchange.

The ACA requires most Americans to have health insurance next year or pay a penalty of at least $95 on their federal tax return.

To arrange an AARP presentation, contact Andy Farmer at 517-267-8921 or afarmer@aarp.org.

Rick Haglund is a writer living in Birmingham, Mich.