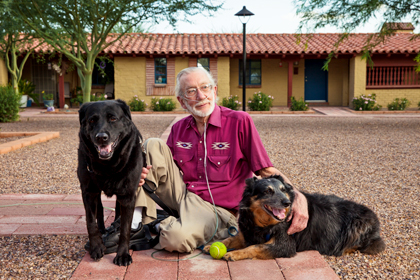 By Miriam Davidson

Before he turned 65 in August and became eligible for Medicare, Howard Barnes of Tucson struggled to survive without health insurance.His $1,000 monthly income was too high to qualify for Medicaid but too low to afford health insurance. So the retired computer programmer relied on a patchwork of free clinics, discount plans and help from church friends to get the doctor visits, prescription drugs and equipment he needs to manage a life-threatening respiratory disease.

Barnes said the stress and high cost of care—like $25 for each oxygen tank—damaged his health and well-being. "It's dramatically impacted my social ability and contacts with the world because I can't afford to go out and about with people," he said.

Now, with the implementation of the Affordable Care Act (ACA), and the expansion of Medicaid in Arizona, Barnes can afford the health insurance he needs and also hopes others won't face a similar struggle.

Beginning this month, Arizonans under 65 can shop for coverage offered by about a half-dozen companies through a health insurance marketplace, or exchange.

Roughly 1.3 million state residents—one in five—lack health care coverage, including more than 190,000 ages 50 to 64, according to an AARP Public Policy Institute report.

Medicaid expanding

About 73,000 low-income residents ages 50 to 64 will become eligible for Medicaid, thanks to the state's expansion of the program to increase income eligibility limits from about $11,500 to nearly $15,900 for an individual.

AARP Arizona volunteers are going around the state informing people about the ACA.

"Our presentation covers four topics: how the ACA affects those with insurance, those without insurance, people on Medicare and small-business owners," said David Parra, associate state director of multicultural outreach.

Since almost half the uninsured in Arizona are Hispanic, AARP Arizona is training bilingual volunteers and conducting outreach through Spanish-language media to spread the word about the ACA and the insurance marketplace.

To schedule a presentation, call 866-389-5649 toll-free or email aarpaz@aarp.org.

Basic health care covered

The plans offered through the exchange must cover basic health care such as doctor visits, hospital stays and prescription drugs.

The plans can no longer charge a copayment for preventive care such as mammograms, Pap smears and blood pressure or cancer screenings.

The plans come in four levels—bronze, silver, gold and platinum—with bronze considered basic coverage, silver standard, and gold and platinum higher coverage with higher premiums.

The ACA prohibits insurers from denying coverage or charging higher premiums based on preexisting medical conditions, a person's gender or occupation. It also eventually eliminates most annual and lifetime coverage caps.

Adult children are able to stay on their parents' insurance until age 26.

Older people who buy private insurance before they are eligible for Medicare at 65 can't be charged more than three times the rate of younger customers' premiums. For those covered by Medicare, the ACA gradually closes the "doughnut hole" in Medicare Part D prescription drug coverage. Other provisions are designed to improve the quality of long-term care.

Customers may enroll in the exchange online, either at home or in places where assistance is available, such as public libraries and health clinics. Consumers can also call a telephone hotline—800-318-2596—24 hours a day for more information or visit HealthCare.gov to learn about the enrollment process and the insurance plans. Trained "navigators" and certified counselors will provide one-on-one assistance.

Those who enroll by Dec. 15 will have coverage on Jan. 1. People who enroll later will receive coverage about a month after they sign up.

Low- and middle-income people may qualify for a subsidy that can be used to lower the monthly premium or can be taken as a tax credit on their federal income tax returns.

People with incomes of less than about $46,000 for a single person and about $94,000 for a family of four may qualify.

The ACA requires most Americans to have health insurance next year or pay a penalty of at least $95 on their federal tax return.

Go to healthlawanswers.org for more information about how the ACA can affect you.

As for Barnes, he's looking forward to finally getting the health care he needs at a price he can afford. With Medicare and his AARP discount, he says he can get a tank of oxygen for as little as $1.60.

"It's all up from here," he said.

Miriam Davidson is a writer living in Tucson, Ariz.