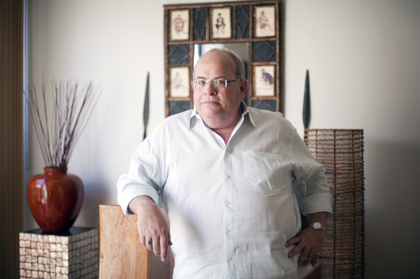 By Thomas Korosec

Robin Stringfellow, 60, had health insurance until March, when coverage from his former employer ran out following a layoff.

His search to buy an individual policy became more difficult when he learned this spring that he has diabetes.

"I called several major insurance companies, and they said, 'No way, no how with a preexisting condition,'" said Stringfellow, a Dallas public relations executive who is freelancing while looking for a full-time job.

For the first time in his life, Stringfellow is uninsured and vulnerable should any significant health care expenses come his way.

Stringfellow is looking forward to buying insurance through the Affordable Care Act (ACA), but he concedes he's not certain how to enroll and has little idea what coverage will cost.

As of this month, Texas residents are able to choose among several plans offered through a health insurance marketplace, also called an exchange, set up by the law.

To help people like Stringfellow, AARP staff and volunteers are making presentations to AARP Texas chapters, senior centers, church groups and at meetings hosted by community groups. To request a speaker, call toll-free 866-227-7443.

Tele-town halls will be held Oct. 22 and Nov. 7 to answer questions about how the law will affect Medicare beneficiaries.

'The law of the land'

Amanda Fredriksen, AARP Texas manager of advocacy, said that regardless of how people feel about the law, "at this point, it's the law of the land … and we want people to get the information they need to figure out what it's going to mean for them.

"There are plenty of options for folks in the Texas marketplace," she said.

Texas has the nation's highest percentage of uninsured. Nearly 29 percent of adult Texans are uninsured, according the U.S. Census Bureau. In 2011, nearly 905,000 Texans ages 50 to 64 had no health insurance, or about 21 percent of that age group, according to an AARP Public Policy Institute report. That compares to 15 percent of that age group nationwide.

Texas declined to expand Medicaid, the federal/state health program for the poor. The expansion—which was included in the law but ruled as optional for each state by the U.S. Supreme Court—would have provided health care coverage to 1.5 million Texans by 2017, according to the Texas Health and Human Services Commission.

"The opportunity to expand Medicaid is ongoing," Fredriksen said. "Because Texas hasn't done it yet doesn't mean Texas can't do it in the future."

Plans sold in the marketplace must cover basic health care such as doctor visits, hospital stays and prescription drugs. Insurers can't charge a copayment for preventive care such as mammograms, Pap smears and blood pressure or cancer screenings.

The plans come in four levels—bronze, silver, gold and platinum—with bronze considered basic coverage, silver standard, and gold and platinum higher coverage with higher premiums.

Premiums are capped

The ACA prohibits plans from denying coverage or charging higher premiums based on preexisting medical conditions, a person's gender or occupation. Adult children are able to stay on their parents' insurance until age 26.

Older people who buy private insurance before they are eligible for Medicare at 65 can't be charged more than three times the rate of younger customers' premiums. For those covered by Medicare, the ACA gradually closes the "doughnut hole" in Medicare Part D prescription drug coverage.

Consumers can call a 24-hour telephone hotline—800-318-2596—for more information or visit HealthCare.gov to learn about the enrollment process and the insurance plans. Trained "navigators" and certified counselors provide one-on-one assistance. People who enroll by Dec. 15 will have coverage on Jan. 1. People who enroll later will receive coverage about a month after they sign up.

Individuals with incomes up to about $46,000 or a family of four with income up to about $94,000 may qualify for a subsidy that can be used to lower monthly premiums or taken as a credit on their federal income tax returns

The ACA requires most Americans to have health insurance beginning next year or pay a penalty of at least $95 on their federal tax return.

Go to healthlawanswers.org for more information about how the ACA can affect you.

Thomas Korosec has been a journalist in Texas for more than 25 years.