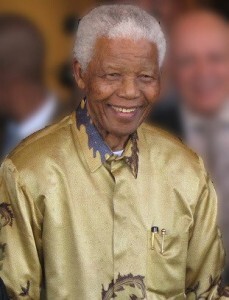 Hello all,

We bring you updates from AARP Massachusetts, beginning with a message from AARP CEO Barry Rand about the passing of former South African President Nelson Mandela on Dec. 5, 2013:

Statement by A. Barry Rand, CEO of AARP on the Death of Nelson Mandela
The world lost one of its most courageous and righteous leaders yesterday with the passing of Nelson Mandela. Mandela, who was imprisoned for fighting against apartheid in South Africa only to later become that country's first elected president once apartheid ended, dedicated his life to fighting for social justice and economic equality.

My wife and I had the opportunity to meet Madiba on a trip to South Africa in 1994. As we ate lunch together, I could not help but to feel in awe of his presence. He exuded a quiet dignity, strong conviction, inspiring confidence, the wisdom of his years and experiences, and a strong moral character. He was a man of purpose at peace with who he was and willing to fight for his beliefs. My wife and I left that brief lunch determined to do more to help make the world a better place. He inspired us. He showed us how.

Much has been and will be written about Nelson Mandela's incredible legacy—his successful fight to end apartheid and reconcile the nation; his work as President of South Africa to end poverty, improve education, and create economic opportunity for all; and his efforts on behalf of human rights for people throughout the world. But he also leaves the world a legacy that will largely go unnoticed: He has taught us all how to live with independence, dignity and purpose as we get older. After being released from prison at the age of 72, he was awarded the Nobel Peace Prize, the US Presidential Medal of Freedom and the Soviet Order of Lenin at the age of 75. At 76, he was elected President of South Africa serving a five-year term. He spent the rest of his life fighting to eradicate poverty and HIV/AIDS through the Nelson Mandela Foundation while continuing to speak out for social justice and human rights.

In a speech at the opening of the Oprah Winfrey Leadership Academy in January 2007, Mandela said, "It can be said that there are four basic and primary things that the mass of people in a society wish for: to live in a safe environment, to be able to work and provide for themselves, to have access to good public health and to have sound educational opportunities for their children." Those are the things Nelson Mandela fought for and the things we fight for today at AARP.

While we will miss Nelson Mandela, we will also continue to carry out his legacy, to lead social change so all people can live and age with independence, dignity and purpose. Nelson Mandela showed us the way. Now, it is up to all of us to fulfill the promise.



Clark wins Markey's Vacated House Seat in the Fifth District
State Senator Katherine Clark secured 66 percent of the vote to win a special election in the fifth Congressional district, according to the Boston Globe. The seat opened up this year when Edward Markey won the U.S. Senate seat that was held by John Kerry before he was named U.S. Secretary of State.

Clark joins two former state senators in the Massachusetts congressional delegation; Congressman Stephen Lynch of South Boston, and Congressman William Keating of Bourne. Clark becomes the third woman in the state's delegation, joining Senator Elizabeth Warren and Representative Niki Tsongas. "Six years ago, there wasn't a single woman representing Massachusetts in Congress. As Katherine Clark joins me in the House of Representatives this week, Massachusetts gains another strong voice to its increasingly diverse Congressional delegation," Representative Tsongas said in a statement to the Associated Press.

Clark joined the Massachusetts House in 2008, and two years later joined the state Senate. She was sworn into Congress on Thursday, a move that allowed her to cast a vote on the budget deal, according to boston.com.



State Board Votes to Reduce Ride Fares
The board of the Massachusetts Department of Transportation voted unanimously on Wednesday to reduce fares for The Ride, the MBTA's door-to-door paratransit service. The fares, which will be reduced from $4 to $3, go into effect in early January of 2014 according to the State House News Service.

In 2012 the MBTA raised fares an average of 23 percent—doubling fares for The Ride from $2 to $4—in an effort to help close a budget deficit. WCVB reported that senior groups and people with disabilities staged protests earlier this year, using wheelchairs to block traffic in front of the Statehouse.

The reduced fares will save riders a collective $6 million a year.

Best,





Leslie Siphers

Advocacy Specialist

AARP Massachusetts