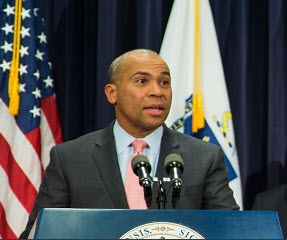 Hello all,

Happy Friday! Here's a brief update on our state and federal advocacy work from the past week.

Governor Patrick's 2014 State of the State Address
On Tuesday, January 28, Governor Deval Patrick delivered his seventh and final State of the State address to the Commonwealth of Massachusetts. Video and full transcripts of the address can be found at WBUR.

The governor included one reference to aging policy in his address, stating: "Today, we're helping people with disabilities earn a living in workforce with dignity and to live independently, because 'Community First' is a reality, not a slogan."

Community First is a vision of the Massachusetts Executive Office of Health and Human Services (EOHHS). EOHHS describes Community First as an overarching policy that enables citizens to be empowered to age with dignity and independence in their communities through access to person-centered integrated systems, supports, and choices.

U.S. House Approves Farm Bill with $8 Billion in SNAP Cuts
On Wednesday, January 29, the United States House of Representatives voted to approve a $956 billion House-Senate agreement on farm policy. The bill passed with a 251-166 vote; all members of the Massachusetts delegation voted against the bill, with the exception of Representative Stephen Lynch (D-8), who did not vote.

A majority of Democrats opposed the bill, with 103 voting against it, complaining about cuts to federal food stamps. Most of the spending in the bill is for the Supplemental Nutrition Assistance Program (SNAP), which received a cut of $8 billion.

AARP CEO A. Barry Rand sent a letter to Congress the day before the vote and stated the organization's support for the farm bill compromise, not because AARP agrees with the food stamp cuts, but because the measure is "the best compromise achievable." The original House proposal would have cut $39 billion from food stamps, while the Senate-passed bill called for a $4 billion cut.

ACTION ALERT:
The Governor has filed a supplemental budget for Fiscal Year 2014 that includes a recommendation for an additional $1 million for the Prescription Advantage program, the Commonwealth's prescription drug assistance program for those aged 65 and older and some younger persons with disabilities. There is currently a deficiency in the funding for the program.

The Prescription Advantage program is vital to the health of Bay State residents. Call your legislator today; let them know that you support the passage of this important supplemental budget.

Thank you for your continued support of AARP's legislative priorities.

Best,

Leslie

Leslie Siphers
Advocacy Specialist
AARP Massachusetts