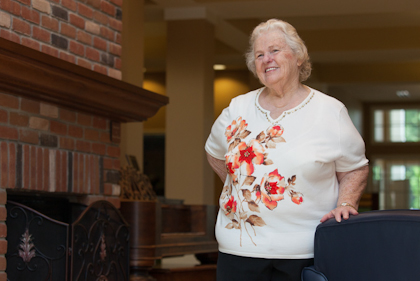 By Melissa Preddy

Raising six children in a 100-year-old frame house, Carole Wilson always had a ready-made army of lawn mowers and handymen.

But now, when the Auburn Hills resident and empty-nester needs a small home repair, she gets help from volunteers through the city's Senior Home Assistance Repair Program (SHARP).

"It keeps things from falling into disrepair," said Wilson, 76, a part-time computer instructor who's lived in the city for more than 50 years. "They've moved my window A/C, changed electrical switches and offered to do a lot more than that. It's very helpful, because Auburn Hills is my home, and I don't want to leave."

SHARP and other programs for older residents—from low-cost snow shoveling to social worker visits to shuttle bus service—make Auburn Hills a natural as the first Michigan locality to join the AARP Network of Age-Friendly Communities. This initiative began in 2012 to promote better access to services, information and participation in community activities by older people.

The program is an outgrowth of the World Health Organization's (WHO) Global Network of Age-friendly Cities and Communities, an international effort to help localities prepare for an aging population.

Assessing services

The city council agreed to join the AARP network in March and was certified as a member in July.

Communities participating in the age-friendly network must seek ways to improve life for people of all ages in areas such as transportation, outdoor spaces, buildings, social activities, communication and technology, community support and health services, said Karen Kafantaris, AARP Michigan associate state director. AARP will provide guidance, technical support and networking opportunities to cities that enroll in the initial five-year program.

Auburn Hills, a Detroit suburb, is a commercial hub, but it's also home to deeply engaged residents who often count former elementary school pals or the grandchildren of old friends among their neighbors.

Finding ways to help folks stay where roots run deep is the mission of the age-friendly network, said Karen Adcock, senior services director for Auburn Hills.

In the coming months, Auburn Hills will conduct an intensive self-evaluation, including town hall meetings, surveys and focus groups. Volunteers will work with city staff to assess the quality and extent of existing facilities and services, from park benches to Meals on Wheels to home health care.

"We're really dedicated to building a supportive community where people can age in place and remain contributing members," Adcock said.

Planning for future needs

Michigan has an acute need to make its cities and communities age-friendly. University of Michigan researchers estimate that by 2040, nearly one in four state residents will be 65 or older, compared with one in five nationwide. Among Auburn Hills' 22,000 residents, nearly 1 in 10 is 65 or older.

To meet age-friendly guidelines, the city assembled an advisory team to oversee areas such as housing, transportation and recreation.

Living facilities for the growing 50-plus population will be one area of consideration. The city planning commission will review zoning and building codes—perhaps to allow for auxiliary dwellings, known as "granny apartments," to be added to existing homes, Adcock said.

Developers and civil engineers will give advice on accessibility issues, and a medical team will explore new approaches to home health care.

Nonprofits will be tapped for their best ideas, too. "A church might be giving rides to doctor appointments and teach us to expand that program," said Adcock.

"Who knows what great gems we'll uncover? We're going to find out where the gaps are and fill them."
Melissa Preddy is a writer living in Plymouth, Mich.