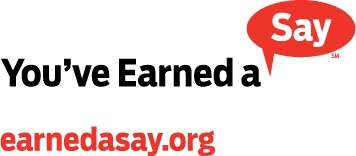 AARP Arkansas representatives recently delivered a report entitled Arkansans Have Their Say about Medicare and Social Security to Arkansas members of Congress and congressional candidates.
The report conveys the opinions of more than 3,700 Arkansans who have participated in You've Earned a Say – a national conversation about how to protect Social Security and Medicare for today's seniors and strengthen them for future generations. National and state-specific versions of the report* are being delivered to presidential and congressional candidates in every state, as well as sitting lawmakers, so they can hear directly from Americans about strengthening these vital programs.
A copy of the Arkansas specific report is available here.
"Through You've Earned a Say, we've heard from voters from across Arkansas who think that when it comes to Medicare and Social Security, Washington isn't listening," said AARP Arkansas State Director Maria Reynolds-Diaz. "With these reports, we are helping Arkansas make their voices heard with candidates and lawmakers."
"People of all ages and across party lines believe Medicare and Social Security are critical to the health and retirement security of older Americans and yet all voters are hearing from the candidates about these programs are attack ads and 30-second soundbites," Reynolds-Diaz added. "The next President and Congress could determine the future of Social Security and Medicare. Voters want and deserve to know where the candidates stand."
AARP sponsored "Election 2012: The Debates" which aired on the Arkansas Educational Television Network (AETN) shortly before the election. Additional information is available at www.aetn.org/elections
Through the reports, debate sponsorship activities and ongoing You've Earned a Say events, AARP is working to elevate the voices of Arkansas voters and provide them with nonpartisan information about candidates' positions on issues important to Americans 50 and older. In August, AARP launched the "You've Earned a Say: Vote for Retirement Security" 2012 Voters' Guides featuring information from presidential, senatorial and congressional candidates—in their own words—on their plans to strengthen Social Security, Medicare and financial security.
A recent AARP nationwide survey of registered voters ages 50 and older found that 47 percent of these voters are not confident they'll ever be able to retire and 67 percent believe the recent economic downturn will force them to rely even more on Social Security and Medicare.
Voters 50-plus think that the next President and Congress need to strengthen Social Security (91 percent) and Medicare (88 percent). They also overwhelmingly (91 percent) believe that these issues are too big for either party to fix alone and require Republicans and Democrats to work together.
For more information, please visit www.earnedasay.org.
*The reports feature the non-random, unscientific results of three You've Earned a Say questionnaires. The results are not representative of AARP members or any particular group. They indicate the opinions of millions of people who chose to answer the three questionnaires