Contacts: Erik Kriss 518-360-9213 ekriss@aarp.org ; David Irwin dirwin@aarp.org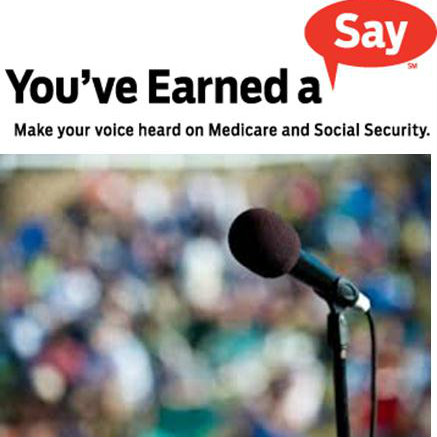 Capitol Pressroom's Susan Arbetter Moderates Community Forum & Spirited Discussion on Cuts to Programs & What They Would Mean in New York
CLARENCE, NY – As Congress eyes cuts to Social Security and Medicare as part of a budget deal, Western New York residents and experts joined at a community forum today to talk problems and potential solutions to strengthen the programs, which help millions of New Yorkers maintain financial security in retirement.
Susan Arbetter, host of public radio's "Capitol Pressroom" show and news and public affairs director at WCNY, moderated the forum, which featured a panel of Western New York experts and several dozen residents of the region.

The panel included Bruce Boissonnault, President and CEO of the Niagara Health Quality Coalition; Dr. Robert Stall, a prominent Western New York geriatrician; Fred Floss, a Buffalo State Professor of Economics; and Anthony Szczygiel, a University at Buffalo Professor of Law.

The forum allowed the community to discuss Social Security and Medicare as part of AARP's You've Earned a Say, a national conversation about strengthening health and retirement security.

"Politicians in Washington have been talking about cutting Medicare and Social Security as part of deals to keep the federal government running and allow the United States to continue meeting its financial obligations next year. AARP does not think that's right," said Bill Armbruster, Associate New York State Director for AARP. "We strongly believe any debate on Social Security and Medicare should be separate from federal budget negotiations – and should include you. You've earned your Medicare and Social Security benefits through a lifetime of hard work, and you've earned a say about the future of these programs."

Nearly 9 of every 10 New Yorkers 65 and older – almost 140,000 in Erie County and 2.4 million across New York – receive Social Security benefits. In Western New York's 26 th and 27 th congressional districts, about 220,000 residents 65 and older are on Social Security.

More than 19 of every 20 New Yorkers 65 and older – about 2.6 million - are enrolled in Medicare.

Social Security keeps nearly 1/3 of older New Yorkers out of poverty, and the average annual benefit of $15,600 accounts for nearly three quarters of low- and middle-income older New Yorkers' income.

Medicare recipients in New York spent an estimated 14 percent of their income, or $5,092 on average, for out-of-pocket medical costs last year.

Growing debt burdens, dwindling pensions, and increasing health care costs make Social Security and Medicare more important than ever.

The Social Security and Medicare cuts Congress is considering as part of a deal to avert another government shutdown and debt ceiling crisis next year would throw more New Yorkers into poverty and would hurt Western New York's economy.

More than $240 million in Social Security benefits flow into Erie County annually, triggering nearly half a billion dollars in economic activity. Statewide, the respective numbers are closer to $50 billion and $90 billion.

A proposed "Chained CPI," which would reduce inflationary Social Security increases on the misguided assumption that seniors could buy cheaper versions of the same goods, would cost Erie County recipients more than $476 million over 10 years.

For more information on You've Earned a Say, visit www.earnedasay.org. AARP is nonpartisan, does not support or oppose any political candidates, nor contribute any money to political action committees, campaigns or super PACs.

Follow us on Twitter: @AARPNY and Facebook: AARP New York



AARP is a nonprofit, nonpartisan organization, with a membership of more than 37 million, that helps people turn their goals and dreams into real possibilities, strengthens communities and fights for the issues that matter most to families such as healthcare, employment and income security, retirement planning, affordable utilities and protection from financial abuse. We advocate for individuals in the marketplace by selecting products and services of high quality and value to carry the AARP name as well as help our members obtain discounts on a wide range of products, travel, and services. A trusted source for lifestyle tips, news and educational information, AARP produces AARP The Magazine, the world's largest circulation magazine; AARP Bulletin; www.aarp.org ; AARP TV & Radio; AARP Books; and AARP en Español, a Spanish-language website addressing the interests and needs of Hispanics. AARP does not endorse candidates for public office or make contributions to political campaigns or candidates. AARP Foundation is an affiliated charity of AARP that is working to win back opportunity for struggling Americans 50+ by being a force for change on the most serious issues they face today: housing, hunger, income and isolation. AARP has staffed offices in all 50 states, the District of Columbia, Puerto Rico, and the U.S. Virgin Islands. Learn more at www.aarp.org .

####