AARP New York is a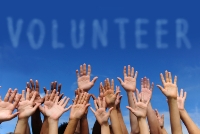 ccepting applications for State President, AARP's top volunteer position in New York. We are searching for a visionary leader to help shape our education, outreach, and advocacy efforts throughout New York State.

Are you or someone you know a passionate, strategic thinker and leader with the ability to motivate and inspire others? If so, now is the time to apply, or recommend that talented person, by emailing us today at cdeska@aarp.org.

Be a Leader:
• Represent the concerns of more than 2.6 million AARP members in New York.
• Play a key role in achieving and shaping AARP's vision, mission and strategic priorities in our state.
• Work on issues important to people 50+ and their families. We are focused on financial security, health security, and addressing New York's rapidly aging population through our local level work on mobility, transportation, affordable housing, older adult hunger and other forms of civic engagement.

The Ideal Candidate for this Position:
• Has a strong record of achievement in a professional career and/or in community service;
• Has knowledge and passion for AARP's priority issues;
• Has extensive personal and professional networks with key New York leaders in government, and the public and private sectors;
• Has strong public speaking skills and is willing to serve as the external face of AARP New York;
• Has a desire and willingness to take on a leadership role involving AARP issues;
• Is able to manage, motivate and lead our volunteer Executive Council;
• Will represent AARP in a nonpartisan fashion;
• Is a change agent and willing to embrace technology; and
• Is capable of developing a strong working partnership with the State Director.

Time commitment is flexible and varies. Some travel is required – both in New York and nationally. Approved travel and related expenses are reimbursed.

Email Christine Deska cdeska@aarp.org with questions.