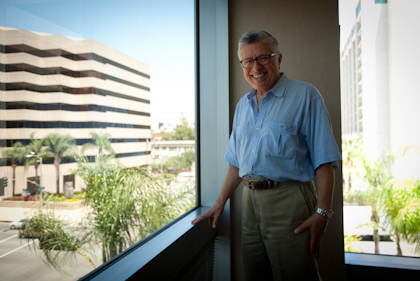 By Ray Huard

Sam Thomas of Pasadena, an AARP volunteer, is one of hundreds of people around the state being trained by community organizations to explain the benefits of the federal Affordable Care Act (ACA) to consumers.

"They've just heard the stuff on television—how terrible it is, how horrible it is. It actually isn't," said Thomas, 72, a retired executive director of the Leukemia & Lymphoma Society in Los Angeles. "I think they feel better after we've spoken to them."

By just about every measure, California leads the nation in implementing the ACA: from setting up a new state agency that will help people find and enroll in health insurance plans to expanding Medicaid.

"California is going to be the shining example for other states," said Ron Pollack, executive director of Families USA, a nonpartisan consumer organization for health care based in Washington, D.C. "There's no question that California's efforts are considerably more than we're seeing in other states."

State officials estimate that 5.3 million California residents who now lack coverage will be eligible to enroll in health insurance plans offered by 13 companies and nonprofit groups selected by Covered California, the new state agency created to manage the ACA marketplace.

The ACA requires almost all Americans to have health insurance beginning next year or pay a penalty of at least $95 on their federal tax return.

At least 2 plans per county
Not all plans will be available statewide, but Peter V. Lee, executive director of Covered California, said consumers will have at least two plans to choose from in every county.

An insurance marketplace, or exchange, will allow consumers to compare costs and benefits among insurance plans.

The plans cover doctor visits, prescriptions, hospital stays, maternity care, lab services, emergency services and other benefits—and they place a ceiling of $6,350 on out-of-pocket expenses.

The plans come in four levels—bronze, silver, gold and platinum—with bronze considered basic coverage, silver standard, and gold and platinum higher coverage with higher premiums. No one can be disqualified because of preexisting conditions.

Although coverage doesn't begin until January, Californians can enroll starting Oct. 1 at the agency's website, coveredca.com, or by calling 888-975-1142 toll-free.

The Covered California website includes an interactive chart where people can find out what plans are available and how much they cost.

Individuals earning up to about $46,000 and a family of four making up to $94,000 are eligible for subsidies to help with the premiums.

A wide range of organizations, churches and nonprofit groups will have trained volunteers and paid staff—known as certified enrollment counselors—to help people.

The role of the AARP California volunteers will be to explain the health law to groups including service clubs, faith-based groups, and civic and senior organizations, said Blanca Castro, AARP California advocacy manager. AARP will not be involved in the enrollment process.

Groups that want an AARP volunteer to speak to them should call 866-448-3614 toll-free.

"AARP strongly supported passage of the ACA, and now our top priority is to make sure people have the information they need to make informed choices about their health," Castro said.

"We are such a big state, we need to be ready," said Anthony Wright, executive director of Health Access California, a consumer group. "We're staffing up with hundreds of people."

Medi-Cal expansion
More than 1 million additional people are expected to be added to Medi-Cal, California's version of Medicaid.

Currently, eligibility for Medi-Cal is capped at $11,490 maximum income for an individual and $23,550 for a family of four. When the ACA takes effect in January, the Medi-Cal eligibility income levels will rise to around $15,900 for an individual and $32,500 for a family of four.

Pollack said the expanded Medi-Cal program will reach a group of people who until now have been "left out in the cold"—primarily adults without children.

AARP volunteer Mike Schutz, of Los Angeles County, said the outreach by groups like AARP is essential for the health law to work.

"It's really vital that people understand that they can finally get affordable health insurance so they won't have to suffer from injuries and disease," Schutz said. "It's important that people take advantage of it."

To learn more about how the Affordable Care Act affects you, go to healthlawanswers.org.
Ray Huard is a freelance writer living in San Diego, Calif.