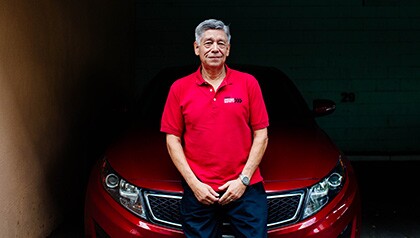 The promise of a discount on his automobile insurance spurred John Aguinaldo, of Los Angeles, to enroll in an AARP Driver Safety course three years ago.
He completed the class, received the state-mandated discount and learned much more than he expected—from understanding the changes in automobiles and traffic laws since he began driving to recognizing the changes in himself.
"My vision is not as good now that I'm in my late 60s, and I'm not as agile as I used to be," the 68-year-old retired bank executive said. "I now have strategies to compensate for that so that I can drive safely."
Aguinaldo liked the course so much that he became one of nearly 300 volunteer instructors offering the class to Californians. An updated version with a new name—the AARP Smart Driver Course—started this month. It has new materials based on research conducted by the Eastern Virginia Medical School using driving simulators and input from driver safety instructors nationwide.
"The illustrations in the new book are much more graphic and much more to the point," said John M. Beringer Sr., 84, of Long Beach, AARP California Driver Safety coordinator.
Aguinaldo said the course continues its focus on the challenges for older drivers and helping them recognize when they should stop driving.
"As we get older, for instance, our ability to judge the speed of an oncoming car is diminished," he said. "An oncoming car can end up being much closer than we realize, and we have to compensate for that when making a left turn in front of it."
The course includes a discussion of when older drivers should quit driving and how to find other transportation options. For more information about deciding when to stop driving, go to aarp.org/wntt.
"We talk about having conversations with people who are having driving problems, assessing your own driving skills and having someone else assess your skills," Beringer said.
More than 30,000 Californians completed AARP's driving classes in 2013. They either participated in one of the more than 2,100 classes offered or took an online course. The classroom instruction takes about eight hours, spread over a two-day period. Instruction is offered in Spanish and Mandarin in some locations.
Californians age 55 and older can qualify for a three-year discount on their vehicle insurance if they complete the class. At the end of the three years, they can keep the discount by taking a four-hour refresher course.
The classes are aimed at people 50 and older, but younger drivers may also attend. The classroom courses cost $15 for AARP members and $20 for nonmembers. Online classes are $17.95 for members and $21.95 for nonmembers. To enroll, visit aarp.org/drive.
For more information, go to the AARP Driving Resource Center at aarp.org/drc or call 888-227-7669 toll-free.
—Laura Mecoy