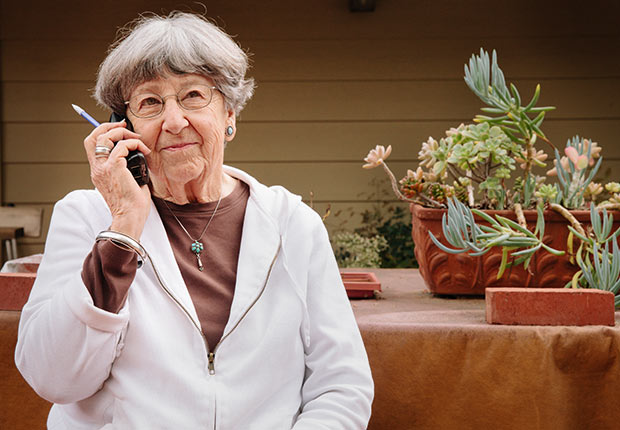 By Ray Huard

A caller told Marilyn Carpenter that she had won a cash prize in a sweepstakes from an organization she trusted.

Carpenter, 79, of Thousand Oaks, was a little suspicious, but then came the tip-off: "He wanted my bank account number so that he could deposit it in my account. No way was I going to give anybody that kind of information."

She hung up and reported the call to the organization and the district attorney's office.

Betty Kopley, of West Los Angeles, wasn't so fortunate.

"I was scammed," said Kopley, 84. She lost about $4,500 in what a San Diego prosecutor said was a classic "granny scam."

A man purporting to be Kopley's grandson called and said he had been arrested on drunken driving charges and needed bail money in order to be released from jail.

"He said, 'I'm so embarrassed. Don't call my parents; please, don't call my parents,' " Kopley said. "He said, 'If you send money, they'll dismiss the case.' "

Kopley sent the money through an online service, then got another call from her so-called grandson asking for more money.

"Then I called the jail where he was supposed to be, and they had never heard of him," Kopley said. She called the police, but they said there was little they could do. She was out the money she'd sent.

"There was no one to turn to," Kopley said.

[ See related video.]

AARP California hopes to help fill that gap by participating in the AARP Fraud Watch Network, said Charee Gillins, spokeswoman for AARP California.

The Fraud Watch Network website, aarp.org/fraudwatchnetwork, provides alerts on the latest scams, tips on how to avoid them, information on where to report scams, and a place for people of all ages to share information.

"It's a free resource. It contains valuable information on how scammers think and how they get you to open your wallet," Gillins said.

Volunteers wanted
AARP California is also seeking volunteers to become fraud busters by going to various community groups to talk about scams, Gillins said. Anyone can volunteer, and AARP will provide training.

People can sign up to be a fraud buster by calling AARP at 866-448-3615 toll-free or by visiting the state AARP website, aarp.org/ca.

Stories like those of Carpenter and Kopley are all too familiar to San Diego County Deputy District Attorney Paul Greenwood, who heads the Elder Abuse Prosecution Unit. He said older people are especially vulnerable.

"They are more trusting, more respectful of authority," he said.

The Federal Trade Commission, in a 2013 study, found that an estimated 25.6 million people were victims of frauds and scams in 2011, the most recent such nationwide data available.
In a 2014 FTC report, California ranked seventh highest in the rate of reported frauds and third in the rate of identity thefts.

Fraudulent prize promotions, like the one Carpenter encountered, were the second most common type of fraud. The most common was for phony weight-loss products, the FTC reported.

Greenwood said that among the more common scams he comes across are people posing as IRS agents, sheriff's deputies, utility bill collectors and jailed relatives.

"I tell the adult children to be on the lookout for this, to be constantly telling their parents not to hand over money," Greenwood said.

He said the FTC's estimates on the number of people scammed are far too low because of underreporting by victims.

"We don't have any handle on how many victims there are," Greenwood said, "because so many of the victims—when they discover they're a victim—are too embarrassed to tell us."

Moreover, some older victims refuse to believe they've been conned, he added, "and keep repeating the same mistake, time after time after time."
Ray Huard is a freelance writer living in San Diego.