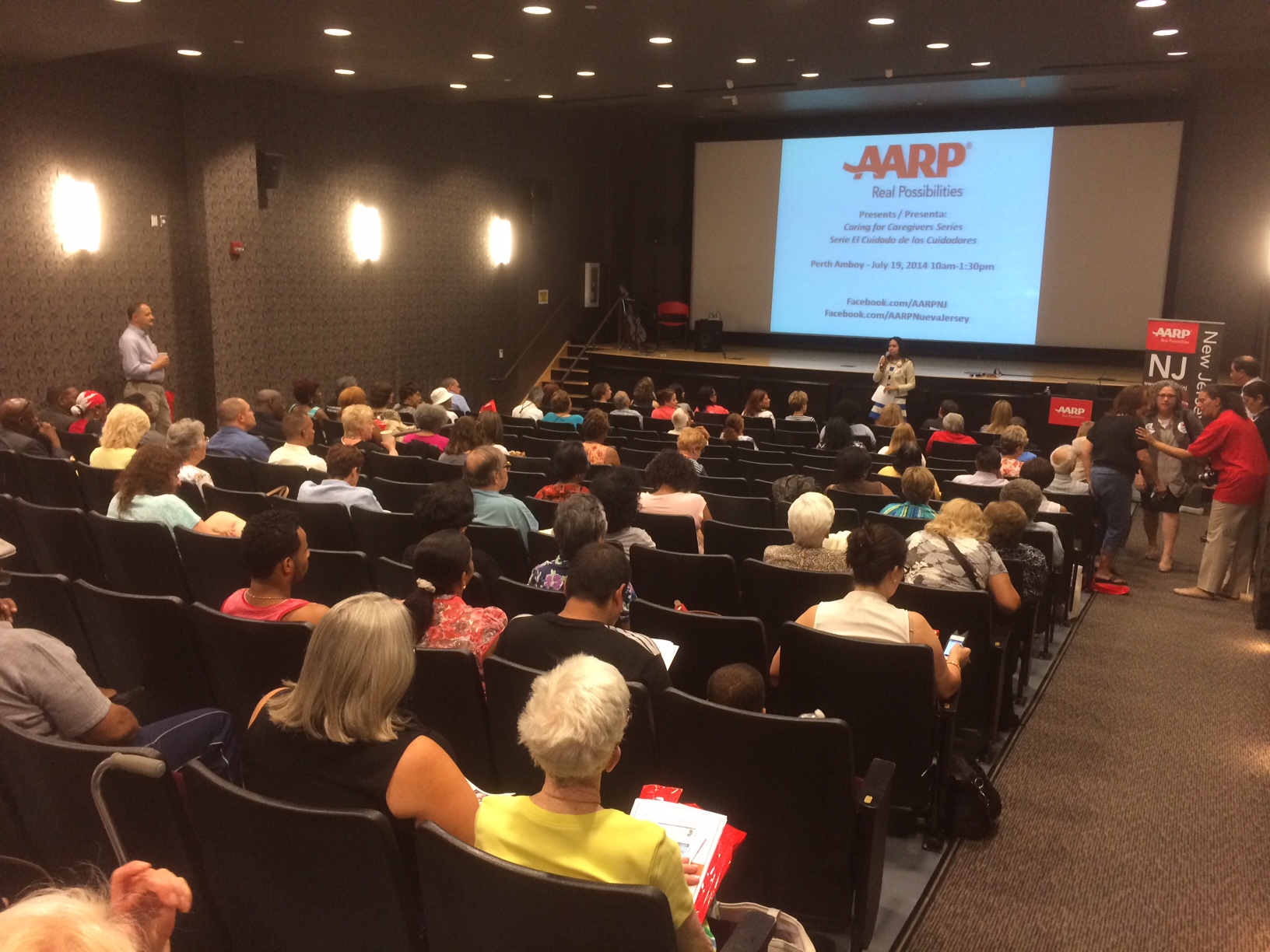 On Saturday July 19 th, over 100 caregivers and those that care for THEM wore stickers in either English or Spanish (or both!) proudly claiming "I LOVE CAREGIVERS!" These attendees gathered at the Raritan Bay YMCA in Perth Amboy, New Jersey to attend the first event of AARP New Jersey's Caring for Caregivers series. The purpose of these events is to empower caregivers through a network of organizations and by sharing their stories with other caregivers facing similar challenges.

The guests were greeted with beautiful Spanish guitar music as they entered the auditorium for the morning's events. All content was entirely bilingual, to allow everyone the comfort and understanding of their language of preference. Evelyn Liebman, AARP New Jersey Associate State Director for Advocacy, was the first speaker of the morning. She spoke on The Caregiver, Advise, Record, Enable (CARE) Act, which AARP supports and which currently is before the state legislature. This bill would help end stories similar to the one Elizabeth from Perth Amboy shared at the event, "I was a caregiver to my brother at one time. The hospital sent him home without notifying me…The ambulance staff put him in the dining room around the table. I had to call someone to assist me to get him to bed." The CARE Act would require hospitals to record a patient's caregiver, notify them should their loved one be released from the hospital, and require all caregivers to receive live demonstrations of how to perform the various medical tasks that caregiving demands.

Senator Joe Vitale served as the Honorary Event Chair. He is also a prime sponsor of The CARE Act. He recalled his own mother's caregiver's challenges.

Nathalie Shortal, AARP Campaigns Field Manager, then presented on a range of topics including respite care, workplace flexibility, transitional care, the economic value of caregivers, The CARE Act, and caregiver tax credits. She was followed by Eldercare Coach Ruth Rothbart-Mayer, a Psychotherapist and Eldercare Coach who explained the emotional journey and challenges caregivers must face, focusing on those caring for elderly suffering with Alzheimer's and Dementia. The audience was full of nodding heads, relating to the pain Rothbart-Mayer described. She was able to explain some basic techniques caregivers may use to adjust their mindset to try to stay positive during heart-wrenching times.

AARP New Jersey Associate State Director for Outreach Julie Marte spoke to the importance of collecting and sharing personal stories of caregivers. These stories are then shared with decision-makers to help demonstrate the reality that is the challenging life of a caregiver. Some went on to share their stories in the auditorium, while many others went on to share their stories via our private story collection booth.

Over the course of the event, guests were also able to visit the caregivers' resource tables provided by a number of area organizations including the Alzheimer's Association, the Area Office on Aging – Middlesex County, Catholic Charities, the Diocese of Metuchen Department of Human Service, O.O.I.E. (NJ Office of the Ombudsman for the Institutionalized Elderly), PRAHD (Puerto Rican Association for Human Development), and the United Way.

The caregivers left with packets of information, comfort in the ability to share their story, and the realization they are not alone. If you would like to join us during our next free Caring for Caregivers event, please join us on Friday, August 15 th from 10am to 1:30pm in North Bergen. A complimentary breakfast and lunch will be served. If you would like more details or would like to register please follow this link: http://tinyurl.com/kl4x3j7.