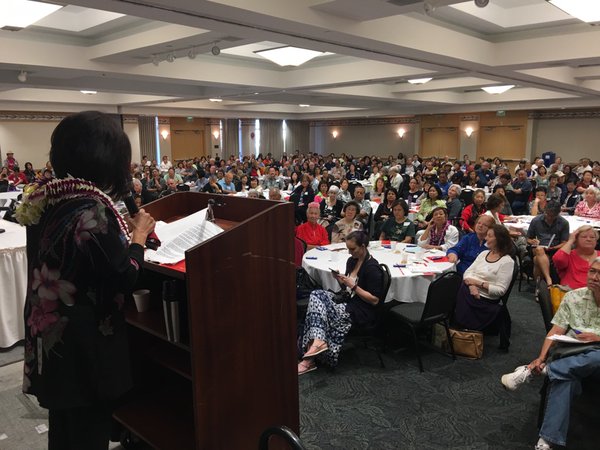 About 500 people attended AARP's annual Caregiver Conference at the Japanese Cultural Center on Saturday, April 2. The free event, co-sponsored by Wilson Care Group, covered topics ranging from managing complex change to the latest research on promoting brain health – and connected residents with information and resources to help caregivers support their aging loved ones.

The conference featured an update on bills affecting seniors and their families moving through the state legislature – including the omnibus Kupuna Care funding bill (HB 1878 HD1 SD1) and the CARE Act (HB 2252 HD1 SD1). The CARE Act would require hospitals to give family caregivers the opportunity to receive instruction – prior to discharge – in medical tasks required when patients go home.

One of the highlights of the conference was a "flash mob" exercise involving participants using their smartphones to call legislators and urging them to pass the Senate version of the CARE Act. The call generated more than 200 calls to members of the state House using the AARP Legislative Hotline: toll-free 1-844-281-7533. It's not too late! Make YOUR call now!



Lawmakers taking part in the legislative update included Sen. Suzanne Chun Oakland, Rep. Gregg Takayama, and Rep. Della Au Belatti, each of whom were part of a Legislative Family Caregivers Working Group that examined the role of family caregivers in hospital discharge procedures last year. House Health Committee Chair Belatti told attendees there is a "very strong commitment" by leaders of both houses to pass the CARE Act in 2016.

The CARE Act is scheduled to be heard by the Senate Judiciary and Labor Committee on Tuesday, April 5 at 9:05 a.m. in Room 016 at the Capitol.

Caregivers are the backbone of Hawaii's eldercare system, and the coalition is fighting for greater public support and recognition for friends and family who help kupuna live independently at home. In a recent survey of registered voters age 45-plus, more than 60 percent say they are currently providing or have provided unpaid care. Forty two percent say it is likely they will provide unpaid care to a loved one in the future.