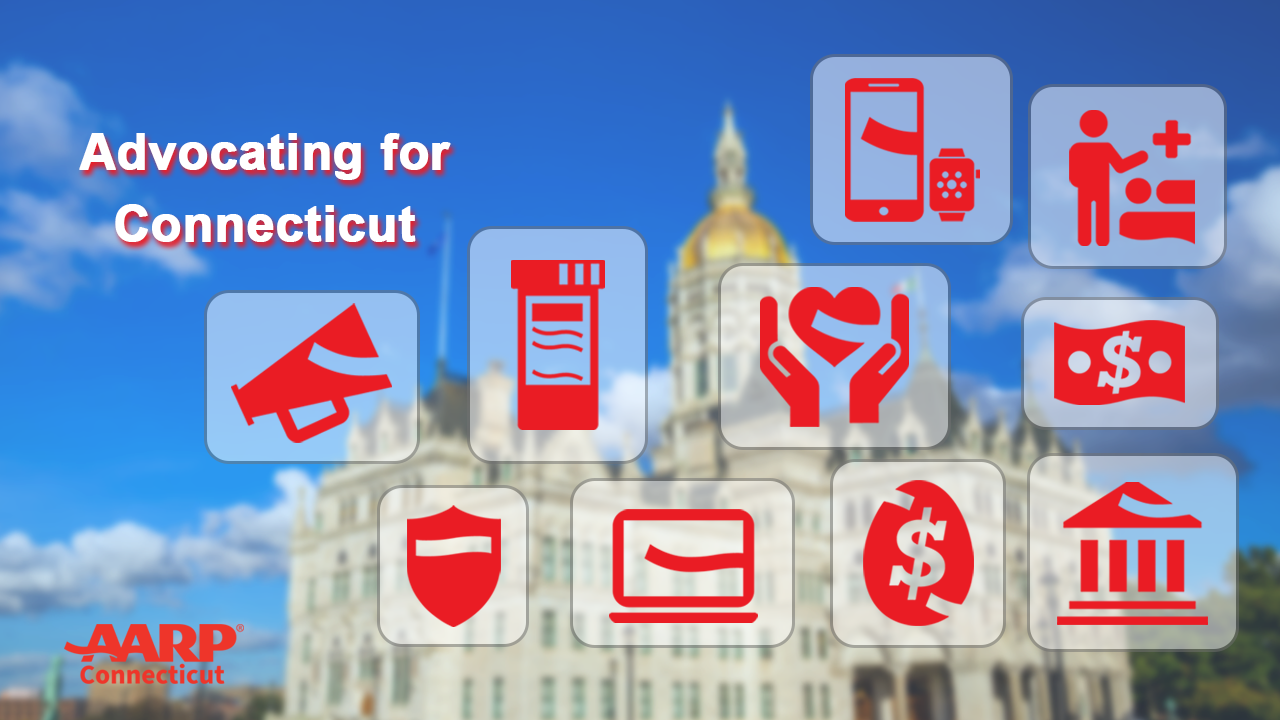 AARP's mission is to empower people to choose how they live as they age, and an important part of choosing how we live as we age is being able to choose where we live as we age. Most older adults want to remain in their own home and community as they age, but financial barriers and limited service options can make this difficult. We were pleased that the Connecticut legislature passed a state budget and several pieces of legislation that will support older adults who wish to age in place.

Long-Term Services and Supports
Expanding Access to Connecticut Home Care Program for Elders (included in the budget, Section 236, starting on page 359)
According to a recent AARP survey, 81% of older Connecticut residents say that, if they ever need long-term care, they want to receive that care in their own home. The budget agreement supports this preference and makes the Connecticut Home Care Program for Elders (CHCPE) more accessible by lowering the copay for program participants from 4.5% to 3.0%. CHCPE provides assistance with activities of daily living such as bathing, dressing, eating, and taking medication, which allows older adults who are at risk of nursing home placement remain at home.

Creating a Community Ombudsman Program for Home Care (included in the budget implementer, Section 7, starting on page 27)
The budget will also support individuals who receive home care through the creation of a Community Ombudsman Program for Home Care. This program will be modeled on the existing Long-Term Care Ombudsman Program, which provides information, support, and advocacy to individuals who receive care in institutional care settings like nursing homes. The Community Ombudsman Program will support the more than 30,000 individuals in Connecticut who receive Medicaid home and community-based long-term services and supports.

Community Spouse Resource Allowance (included in the budget, Section 237, starting on page 360)
When a married individual needs to move into a nursing home, the spouse who remains in the community typically needs to spend down their shared assets below a certain level for Medicaid to pay for the nursing home care. The budget includes an increase in the minimum community spouse protected asset limit from $27,480 to $50,000, which will help married low- and middle-income Connecticut residents remain in their home and meet their basic needs if their spouse enters a nursing home.

Studying Homemaker-Companion Agency Issues (Senate Bill 262)
The bill establishes a task force to study issues concerning homemaker-companion agencies. Specifically, the task force will look into issues including how to resolve complaints against such agencies, staff training and recruitment methods, how to help potential clients locate and choose quality services, and best practices from other states. Homemaker-companion agencies play a critical role in helping older adults age in place, and AARP Connecticut wants to ensure that the care provided is high quality and dependable.

Elder Abuse
Deadlines for Mandatory Reporting of Suspected Elder Abuse (Senate Bill 286)
An estimated 1 in 10 older adults experience elder abuse each year, but this remains a very underreported crime. Under current law, mandated reporters of elder abuse have 72 hours to contact the Department of Social Services when they have reason to believe that an elderly person needs protective services or has been abused, neglected, exploited, or abandoned. This new law will reduce that timeframe to 24 hours and require individuals who fail to report in a timely manner to retake mandated reporter training.

Training for Mandated Reporters (House Bill 5313)
It can be difficult to spot the signs of elder abuse and neglect, and it is important for professionals who work with older adults to identify abuse when it occurs and respond appropriately. HB 5313 requires mandated elder abuse reporters to complete the Department of Social Service's elder abuse training program, or another approved program, within 90 days of becoming a mandated elder abuse reporter. This bill also requires the Department of Social Services to notify long-term care and home care applicants of their right to seek legal assistance during the Medicaid application process, requires temporary nursing services agencies to register with the Department of Public Health, and requires nursing homes and residential care homes to electronically report involuntary discharges.

High-Speed Internet
Continued Funding for Broadband Infrastructure (included in the budget on page 42 - T1225; page 51 - T1401, T1402, T1405, T1406; and page 52 - T1407, T1408)
Equitable access to broadband is increasingly essential for everything from employment to education to healthcare. High-speed internet access enabled older adults to overcome social isolation and remain connected to their families, friends, places of worship, senior centers, libraries, and more during the COVID-19 pandemic. In multigenerational households, broadband services are essential for remote learning, and improved access to telehealth has been beneficial to people of all ages. AARP Connecticut is pleased with the budget's continued investments in broadband infrastructure in low-income communities and underserved areas.

Tax Relief
Lowering the Statewide Car Tax Cap (included in the budget, Sections 417-418, starting on page 532)
In addition to being a significant expense for many residents, Connecticut's motor vehicle taxes are unpredictable from year-to-year and from one municipality to the next. These taxes have an especially burdensome impact on lower income residents and those on fixed incomes, including many older adults. The budget lowers the statewide car tax cap from 45 mills to 32.46 mills, which will provide relief to car owners in almost half of Connecticut's towns.

Property Tax Credit (included in the budget, Section 412, starting on page 522)
The budget will also increase the property tax credit from $200 to $300 and expand eligibility to more taxpayers.

Accelerated Phase-In of Retirement Income Tax Exemption (included in the budget, Section 414, starting on page 523)
It also accelerates the phase-in of the pension and annuity income tax exemption by allowing qualifying taxpayers to deduct 100% of their eligible income beginning with the 2022 tax year. Under current law, pension and annuity income would not have been fully tax exempt until 2025.

Other Issues
Expanded Circumstances for Absentee Balloting (House Bill 5262)
The right to vote is among the most basic of all constitutional rights. AARP believes that policies should be enacted that encourage and promote maximum participation in the electoral process and this bill does just that. Under the bill, qualified voters may vote by absentee ballot if they are unable to appear at their polling place because of (1) sickness, rather than because of their own illness, or (2) physical disability, rather than because of their own physical disability as well as allows qualified voters to vote by absentee ballot if they are unable to appear at their polling place because of absence from the town of their voting residence. Current law authorizes voters to vote absentee for this reason only if they are absent during all hours of voting. By changing the state absentee ballot statutes, we are allowing more people who are caregivers for a loved one, those who jobs demand the lion's share of their day to be at work, and those impacted by public health emergencies to have greater access to the right to vote.

Data Privacy (Senate Bill 6)
A recent AARP survey found one third of people over 45 said they or a family member had been a victim of a scam or a fraud. Senate bill 6 establishes a framework for controlling and processing personal data. It sets requirements on how companies have to protect data and the ability it gives consumers to control their own data which will make things more secure over time. Aspects specifically worthy of mention in this proposal are that it:

provides consumers with the right to access, correct, delete, and export to a usable format their personal information;
allows consumers to opt out of the use of their data for targeted advertising, sale, and "profiling in furtherance of decisions that produce legal or similarly significant decisions";
effectively bans the use of dark patterns that trick consumers into providing consent when they don't mean to;
imposes data minimization requirements;
prohibits processing data in violation of anti-discrimination laws; and
requires companies to conduct a data protection assessment to determine the risks and benefits of collecting personal data.
Making the Nutmeg State a friendlier place to live and retire independently is good for everyone. Older adults make up an ever-growing percentage of our state population, and they have an outsized impact on Gross Domestic Product and pay a disproportionately high share of state and local taxes.

We applaud the Governor, elected leaders, and legislators on both sides of the aisle for being responsive to AARP Connecticut's nearly 600,000 members about the issues that are most important to them. Several pieces of this budget agreement will make it easier for older adults to age in place, and we hope it will encourage more of our valuable older residents to remain in Connecticut and continue to contribute to their communities.