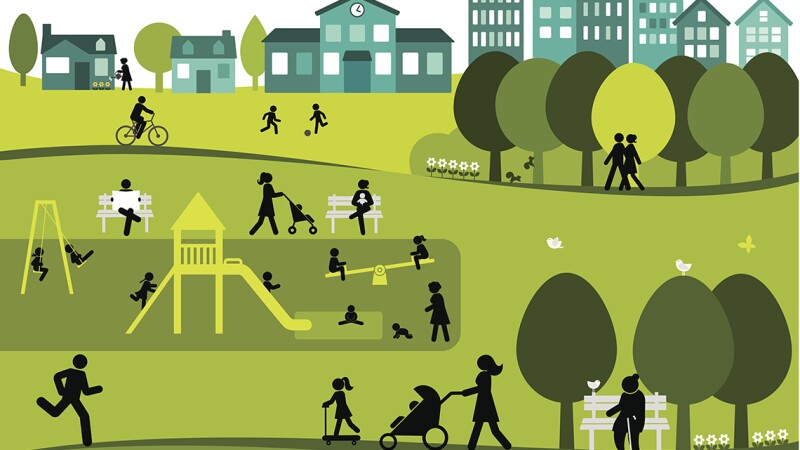 AARP Connecticut has selected six recipients for its fourth Livable Communities Grant Program dedicated to fund quick-action projects in Connecticut communities that will help make immediate improvements or jumpstart long-term progress that will support residents. AARP Connecticut has funded 22 projects since the inception of the grant program in 2018.

AARP Connecticut launched the Livable Communities Grant Program, a local expansion of the national AARP Community Challenge initiative, to provide nonprofit organizations and municipalities in Connecticut with up to $5,000 for projects that aim to help neighborhoods, towns and cities become great places for people of all ages. The program is open to incorporated organizations that are 501(c)(3) or 501(c)(4) non-profits and Connecticut government entities. The 2021 grantees are:

Fairgate Farm, Stamford
This grant will help Fairgate Farm develop its outdoor classroom and grapevine-protected pergola, addressing age- and ability-related barriers to participation in programming and events, by installing a permanent stone patio floor, a platform for classes and live performances, and oven for cooking demonstrations and community gatherings.
Garden Club of Windham
With this grant, the Garden Club of Windham will enhance the security of a footpath through a town park, The Garden on the Bridge, by installing bollard lighting to illuminate the dark area under a pair of railroad trestles that is heavily used by cyclists and pedestrians of all ages to reach jobs, shops, schools, and public transportation in downtown Willimantic.
Town of Glastonbury
The town of Glastonbury will use this grant to install accessible benches with arbors in a garden setting at two of the town's subsidized senior housing developments. The project will enable seniors and individuals with limited mobility to connect with others and experience greater enjoyment of the outdoors in a serene and aesthetically pleasing and familiar environment.
Goodwin University, East Hartford
With this grant, Goodwin University will purchase and install three outdoor fitness equipment machines in a location along the South Meadows Trail that allows people to exercise socially and appreciate the natural beauty of the riverfront.
Rocky Hill Housing Authority
The Rocky Hill Housing Authority will use this grant to build a centralized and accessible gazebo in the residential community that will provide the older adults and disabled residents they serve with a space to gather socially, participate in activities, enjoy each other's company, and avoid social isolation.
San Juan Center, Hartford
This grant will help the San Juan Center transform the Casa Edad de Oro courtyard and outdoor area with accessible, welcoming, and comfortable seating as part of a new space for resident services and programs to combat isolation and depression, as well as build community and comradery.
"Every day, towns and nonprofit organizations across Connecticut work hard to ensure that people of all ages can enjoy everything their communities have to offer," said Tia Murphy, AARP Connecticut State President. "We are thrilled to support this work through the AARP Connecticut Livable Communities Grant Program."

Projects can range from small, short-term activities to larger, permanent solutions, but they must be completed within 12 months of receiving the grant. Grant requests were evaluated for projects with a focus on enhancement in one or more of the following areas:

Affordable and accessible housing options for residents 50+
Delivery of services to help residents 50+ age in the setting of their choice
Creating safe and enjoyable public spaces for all ages with a focus on the 50+ (such as improving bike and pedestrian infrastructure, public parks, public art, safe street crossings, navigation, etc.)
Public Transportation
Fostering intergenerational and multi-cultural connection
Financial security for low income residents 50+
Socialization and fostering community connection for older residents
Education and awareness about LGBTQ elders
Community accessibility for disabled residents
AARP announced in August that it will fund 244 projects across the country in 2021, including three in Connecticut, as part of its fifth annual AARP Community Challenge grant program. More than 800 projects have been funded since the nationwide Livable Communities initiative began in 2017. Visit www.AARP.org/CommunityChallenge to learn more about the program and awardees.

AARP's nationwide Livable Communities initiative also provides resources and publications to encourage local action such as the Roadmap to Livability and the AARP book-series Where We Live: Communities for All Ages. To learn more about AARP's livable communities work in communities across the country please visit www.aarp.org/livable.