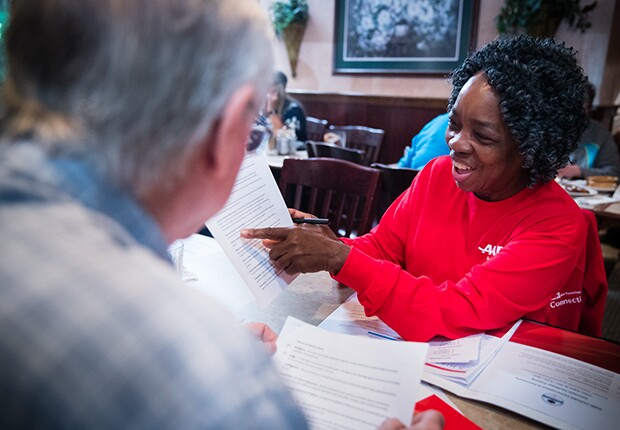 By Beth Levine
Nine years ago, Malinda Polite, of Stamford, attended an AARP Connecticut event and signed up immediately to be a volunteer.
"I have a passion for helping other people," said Polite, 69, an intellectual property assistant at a legal firm. "It helps me to age gracefully because it gives me an opportunity to meet diverse people and expand my awareness." She volunteers for AARP events, outreach and advocacy efforts.
Nora Duncan, AARP Connecticut state director, is grateful. "We couldn't do 80 percent of our local activities without our volunteers; they are truly an extension of staff," she said.
About 800 volunteers are involved in AARP programs and activities in Connecticut, but there is always a demand for more, particularly those who are bilingual. Volunteers aren't required to put in a set number of hours; rather, they give what they can.
"We need all skill sets and will match you to where your strengths and interests are," Duncan said.
So when Tom Sennett, 64, of West Hartford, retired as a retirement planner, he learned that AARP Connecticut had an opportunity for a volunteer with his background to advocate for Work and Save legislation, which created a state program that makes it easier for businesses to provide retirement savings accounts to employees. This was a cause Sennett firmly believed in.
"It has been interesting, rewarding and quite challenging," he said. "I can see that we have an opportunity to make a difference, not only in Connecticut but also, perhaps, across the country. If we do well here, it offers the opportunity to create a template that other states can look to."
Training and support
Specialized skills and talents are not a requirement. All volunteers receive thorough training in their area. "We don't just throw volunteers into the ring," Duncan said. "They are trained specifically on how to do their position. We can also match up volunteers with an experienced mentor."
Polite added, "I think that AARP is one of the best organizations to volunteer for because they make sure that we are kept abreast of everything we need to know to go out and present."
Volunteers often say they get as much or more than they give.
"Testifying in front of the state legislature was something I had never done before," Sennett said of his advocacy work. "It's a chance to do something different and to stretch my skill set. It's also a way to connect with interesting people in doing something that is very worthwhile."
Carol Ann Feldmann, 68, of West Hartford, found that after retiring as an employee benefits paralegal, she missed the camaraderie of the workplace. In addition to volunteering at advocacy events, she works in the state headquarters on the volunteer website portal.
"It's nice to go back in an office once a week and do something that matters. The staff is very giving and supportive and always open to ideas and suggestions any volunteer has. They validate your importance and appreciate your work," Feldmann said.
Sometimes it's the little things that keep a volunteer going. Feldmann recalled staffing a registration table at an event that offered caregivers a night out.
"There was an elderly man who was taking care of his wife," she recalled. "On his way out, he thanked us because he had been feeling so isolated. It was heartening to see that you are making a difference for someone. It was a small event but it meant a lot to him."
To learn more about volunteering, contact Elaine Werner, volunteer specialist, at ewerner@aarp.org or 860-548-3169.

Beth Levine is a freelance writer in Stamford, Conn.