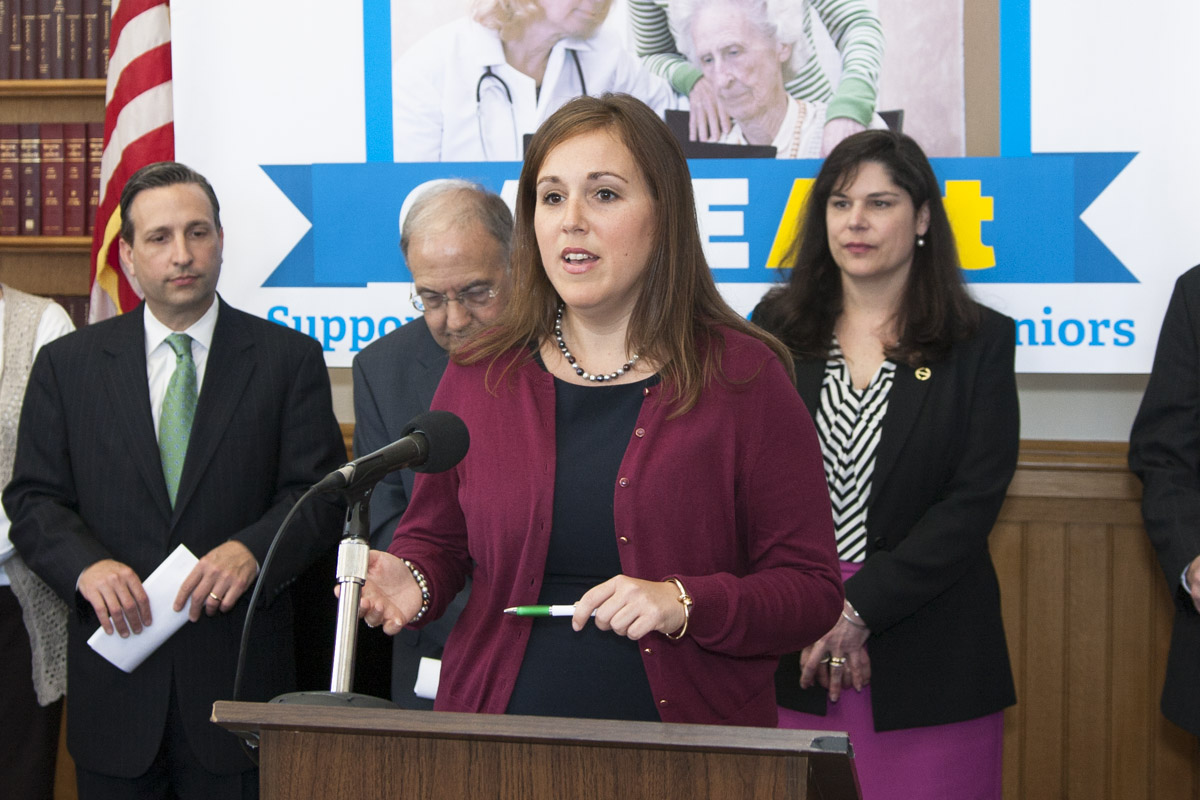 By Natalie Missakian

State Sen. Mae Flexer knows firsthand how stressful it can be when a loved one comes home from the hospital. Ten years ago, her father lost his leg in a motorcycle accident, leading to frequent hospitalizations. Flexer and her sister pitched in to help their mother with his care at home.

Sometimes the hospital gave clear follow-up instructions when it discharged her father. Other times, the family went home feeling overwhelmed and confused.

"Once, he was given instructions to care for a wound that he couldn't physically reach," recalled Flexer, 34. "My mother and sister and I weren't in the room."

A new state law that took effect Oct. 1 is expected to make things easier for caregivers when a family member leaves the hospital. The Caregiver Advise, Record, Enable (CARE) Act, cosponsored by Flexer (D-Killingly), the majority whip, and strongly supported by AARP Connecticut, allows patients to designate a family caregiver on admission forms and requires hospitals to notify that person when the patient is discharged.

Before the hospital releases the patient, it must provide caregivers with training for medical tasks such as injections, managing prescriptions and caring for wounds.

Connecticut is one of 18 states that have passed some version of the law. "It's a trend that's picked up steam rather quickly," said Claudio Gualtieri, AARP Connecticut associate director for advocacy. Oklahoma became the first state to enact the law in 2014.

Tasks get complex
Roughly 459,000 state residents spent 427 million hours in 2013 caring for an adult family member or friend who was elderly, ill or disabled, according to an AARP report released in July. That translates into more than $5.9 billion a year in unpaid services, the report said.

Meanwhile, as hospital stays get shorter, family members are taking on more medical and nursing tasks, in addition to helping with needs such as bathing, dressing and preparing meals, Gualtieri said.

"Unfortunately, a lot of them report not having any instruction or guidance on how to perform those tasks," he added.

Joanne Davis, 61, of Waterford, a registered nurse who cares for her 91-year-old husband, said the law gives family caregivers "an identity and a voice. It establishes a partnership between the facility and the caregiver and helps them to be more comfortable and confident."

In Flexer's case, the law would have required the hospital to give wound care instructions to her mother as the primary caregiver. Hospitals must deliver the instructions in person or on video, not just on paper, and provide an opportunity to ask questions.

Flexer, cochair of the General Assembly's aging committee, said all of those measures would have alleviated her mother's anxiety.

"She's trying to do everything she can to take care of my dad," Flexer said. "But she's not a trained medical professional."

Advocates said the law, which passed unanimously, promotes Connecticut's goal of helping people age at home while potentially reducing the need for patients to return to the hospital.

Under the federal Affordable Care Act, hospitals face financial penalties if they readmit an excessive number of patients within 30 days of discharge. In testimony supporting the bill, state Senate President Pro Tempore Martin Looney (D-New Haven), a cosponsor, said 75 percent of Connecticut hospitals were penalized under that program in 2013.

The Connecticut Hospital Association worked with AARP, state lawmakers and other advocacy groups to support the goals of the CARE Act, said James Iacobellis, the association's senior vice president of government and regulatory affairs.

He said hospitals already provide patient and caregiver education, through their discharge procedures, but the CARE Act creates a standardized process that will improve consistency. The law also highlights for patients the importance of designating a caregiver, he said.

The association is working with its 27 acute-care hospitals to make sure they are up to speed. "Hospitals benefit when patients are engaged and their families are engaged," Iacobellis said.

Natalie Missakian is a writer living in Cheshire, CT