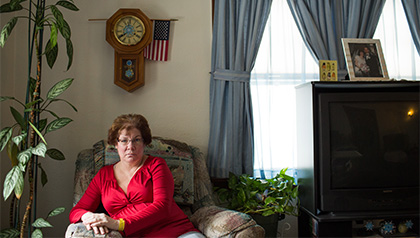 "I am a worker bee," said Arlene Briere. "I like getting up in the morning, knowing I have a purpose. I enjoy helping people."

But since she was downsized from her job in the accounts receivables/payables department at a health facility in 2011, Briere, 54, of Bridgeport, hasn't known that feeling. There have been a variety of temp jobs, but even they dried up last year. Despite sending in at least five applications a day, trying to stay current on her skills and looking at different careers, she manages to snag only about one interview a month. So far, none has panned out.

Briere can't help but think her age is part of the problem, and she's starting to lose confidence.

"It seems the jobs go to younger workers because they will take less money and they are freshly trained. All I want is a chance to prove that I can work as hard and as well."

Briere is part of a growing trend in Connecticut: Unemployed older workers have more trouble getting back into the workplace. In 1999, 2.3 percent of state residents ages 45-54 and 2.1 percent of those ages 55-64 were unemployed; today those figures are 6.6 percent and 6.1 percent, respectively.

"Unemployment isn't necessarily higher for the mature worker, but among people who have been unemployed for more than a year, nearly 50 percent tend to be older workers. When they become unemployed, they have challenges getting back to work," said Tom Long, vice president of communications and development at the WorkPlace, a group that helps people prepare for careers.

Based in Bridgeport, the WorkPlace runs Platform to Employment (P2E), a national program for long-term unemployed workers partially funded by AARP Foundation. P2E provides skill assessments, career readiness workshops, employee assistance programs, coaching and more. After five weeks of classroom work, participants get help finding jobs at local companies.

A double whammy

Ellen G. Cartledge, program manager of Jewish Employment Transition Services, part of Jewish Family Services of Greater Hartford, said the problem is the effect of a double whammy.

"Mature workers are more likely to get laid off in this environment … because they cost more," Cartledge said. "Then, they are less likely to be hired because of many misperceptions about older workers." Among those misperceptions: Older workers are less trainable, less creative and not interested in new technology and social media.

"They are viewed as creatures of habit, lacking flexibility. There are concerns about physical stamina or will these workers jump ship as soon as something better comes along," she said. "These are perceptions, and I don't think they're accurate."

In December, a General Assembly panel—with input from AARP Connecticut— made 16 recommendations to the legislature. Among them:

The Connecticut Employment and Training Commission should coordinate a hiring campaign for older workers.
Employers should be prohibited from requiring that job seekers be currently employed.
The Plus 50 Initiative—which invests in programs to update skills for older students or those changing careers—should be expanded from three to all 12 state community colleges.
AARP Connecticut is supporting legislation to implement the recommendations, said state director Nora Duncan.

"We anticipate the concerns of older workers struggling with unemployment and underemployment to be an issue in the 2014 election cycle," Duncan said. "AARP Connecticut is working with community partners, state legislators and the governor's office to help older workers and the long-term unemployed get back to work."

Briere has regained some hope through her participation in the Platform to Employment program. "It is giving me my confidence back and the motivation to look even more," she said. "I want to work, I need to work."

Beth Levine is a freelance writer who lives in Stamford, Conn.