Day five on the Caucus trail, and AARP Iowa Volunteers continue to travel across the state attending events for all candidates. Recently, the candidates have begun to recognize AARP's #TakeAStand, red T-Shirts. According to Carly Fiorina, "It's working."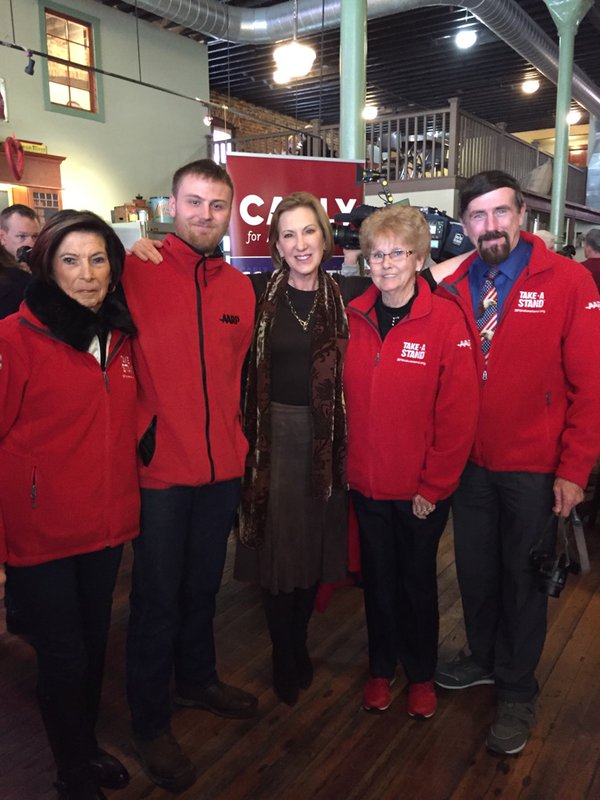 The week's not over yet, and AARP Iowa volunteers will continue to attend rallies, demanding that candidates present their plan to make Social Security financially sound for generations to come. For tomorrow, Thursday, Jan. 27, and Friday, Jan. 28, look for our #takeastand volunteers at the following events:

Thursday:
Santorum, 7:30 a.m., Des Moines
Fiorina, 9:30 a.m. Ankeny
Paul, 3:00 p.m., Des Moines
GOP Fox Debate, 7:00 p.m., Des Moines
Clinton, 7:30 p.m., Keokuk

Friday:
Bush, 8:00 a.m., Des Moines
Christie, 8:00 a.m., Johnston
Kasich, 11:30 a.m., Cedar Rapids
Christie, 11:30 a.m., Ottumwa
Clinton, 11:45 a.m., Des Moines
Paul, 2:30 p.m., Davenport
Christie, 3:00 p.m., Burlington
Bush, 4:15 p.m., Sioux City
Christie, 6:00 p.m., Davenport
Rubio, 6:30 p.m., Dubuque

To check out yesterday's activity go to: https://storify.com/aarpia/caucus-countdown-it-s-working-day-4

AARP welcomes all volunteers wishing to ask candidates how they plan to update Social Security for future generations. To join the #TakeAStand movement call (515) 707-5271, or stop by our office at 600 E Court Ave, Des Moines to learn more.


https://www.youtube.com/watch?v=v2lPzevbAbU[/youtube]